Confused by the huge array of green vegetables to be found at your Asian greengrocer? Don't be daunted! Read on for our who's who guide to your Asian greens.
---
Nutritional Information
Most Asian greens come from the Brassica family of vegetables, which are typically rich in vitamin C, beta-carotene, and potassium it can also provide calcium and magnesium.
In Season
| | | | |
| --- | --- | --- | --- |
| Summer | Autumn/Fall | Winter | Spring |
| AA Choy | Amaranth | Bok Choy | AA Choy |
| Amaranth | Chinese/Oriental Celery | Pak Choy | Amaranth |
| Chinese/Oriental Celery | Choy Sum | Gai Lan | Chinese/Oriental Celery |
| Choy Sum | Chrysanthemum Greens | Mustard Greens | Choy Sum |
| Shiso | Shiso | Tatsoi | Chrysanthemum Greens |
| Tatsoi | Tatsoi | | Tatsoi |
Asian Green Varieties
AA Choy: Also known as Taiwan, stem/celery/asparagus lettuce, wosun. The leaves look and taste like cos lettuce while the stalks taste more like a cucumber. It is best to discard the outer stalk. They are slightly bitter and are best stir-fried. Best around late spring/early summer.
Amaranth or Chinese Spinach or En Choy: It has crisp leaves and crunchy stalks, and it is related to beetroot, and its colour comes from antioxidants called betalains. The leaves are green on one side and purplish on the other. 
It tastes like spinach with a minty spice, smells similar to basil and can be steamed, stir-fried or used raw in salads. Available Spring through Autumn
Purple Mint: It has minty spice flavour and smells similar to basil
A very pleasant herb used in spring rolls and bì cuon (shredded pork rolls) and to top fresh salads. The leaves are green on one side and purplish on the other. 
Bok Choy: Literally means "white vegetable" in Cantonese. Bok choy leaves are dark-green, tender and crisp, while the stalks are white, crunchy, firm and juicy. It has a mild flavour similar to chard. Great cooked in stir-fries, braises, etc. Baby bok choy is much more tender which makes it perfect raw in salads. At their peak during the winter months. 
Pak / Shanghai Bok Choy: This version of bok choy has light-green leaves and pale yellow-green stalks. It has a sweet, delicate flavor and can be used in much the same way as baby bok choy. At their peak during the winter months. 
Chinese or Oriental Celery: Stems are thin, hollow and crispy, but smaller and more delicate than common celery. The feathery leaves are used just as much as the stalks. It has an aromatic and grassy taste and is stronger and more intense than common celery. Added to soups and stir-fries for its flavour.  Best from summer through early autumn.
Choy Sum or Yu Choy: Strictly speaking this could be sold as two different Asian greens. The younger, tender vegetable hearts are choy sum. The larger, less tender vegetable that may have some yellow flowers are yu choy. Yu choy sum is relatively mild, with a slightly sweet flavour. Older yu choy often has a more pronounced bitter and/or mustard-like flavour. The stems are generally more intensely flavoured than the leaves. Use the younger choy sum raw in salads while the older varieties are best stir-fried. Grows spring through autumn. 
Chrysanthemum Greens or Tong Hao: They are soft and feathery, with flat, serrated leaves, and slightly crunchy stalks. If you like Chrysanthemum tea then you will enjoy its wild but subtle mix of tangy, bitter, herbal, cooling, and grassy flavour. They should be lightly steamed or blanched or you can serve tempura style like the Japanese. Best in Spring and Autumn. 
Gai Lan: Also known as kai lan, Chinese broccoli or Chinese kale. It has wide flat leaves and thick, crisp-tender stalks. Tastes similar to broccoli, but stronger and slightly more bitter. Serve blanched, steamed or stir-fried. It is at its peak in winter. 
Gai Choy, Mustard Greens or Chinese Mustard: Mustard greens have crunchy leaves that look frilly with a distinctively sharp, pungent bite, while red mustard's flavour is reminiscent of wasabi. The strong flavour (and red mustard's distinctive colour) are lost if overcooked. Best steamed, braised or blanched. Baby mustard greens are perfect for salads. Available during winter.
Tatsoi or Japanese Spinach: Has thick, dark green leaves with crisp, juicy stalks, not unlike bok choy. As well as adding to soups and stir-fries it also works well raw in salads.  Available year-round.
Water Spinach: This tall, leafy green has hollow stems and tender leaves with a mild, sweet flavour. It is great steamed and topped with oyster sauce, stir-fried, cooked into soup, eaten raw in salads, or sometimes in curries. Best during the summer.
Selection & Storage
When choosing Asian greens, look for crisp stalks with bright green, glossy leaves. Flowering varieties are best when in bud, rather than full bloom.
Store Asian greens as you would store other greens but for best flavour, use within three days of purchase. In most cases, both the leaves and stalks can be eaten, but be sure to trim the stalks to remove any fibrous outer husk.
Preparation
Cut off the base of the stalks, remove any wilted, yellowed or damaged leaves.
Wash under cold running water taking care to remove any dirt between the leaves and stalks, then drain.
Chop according to your recipe.
Salad Recipes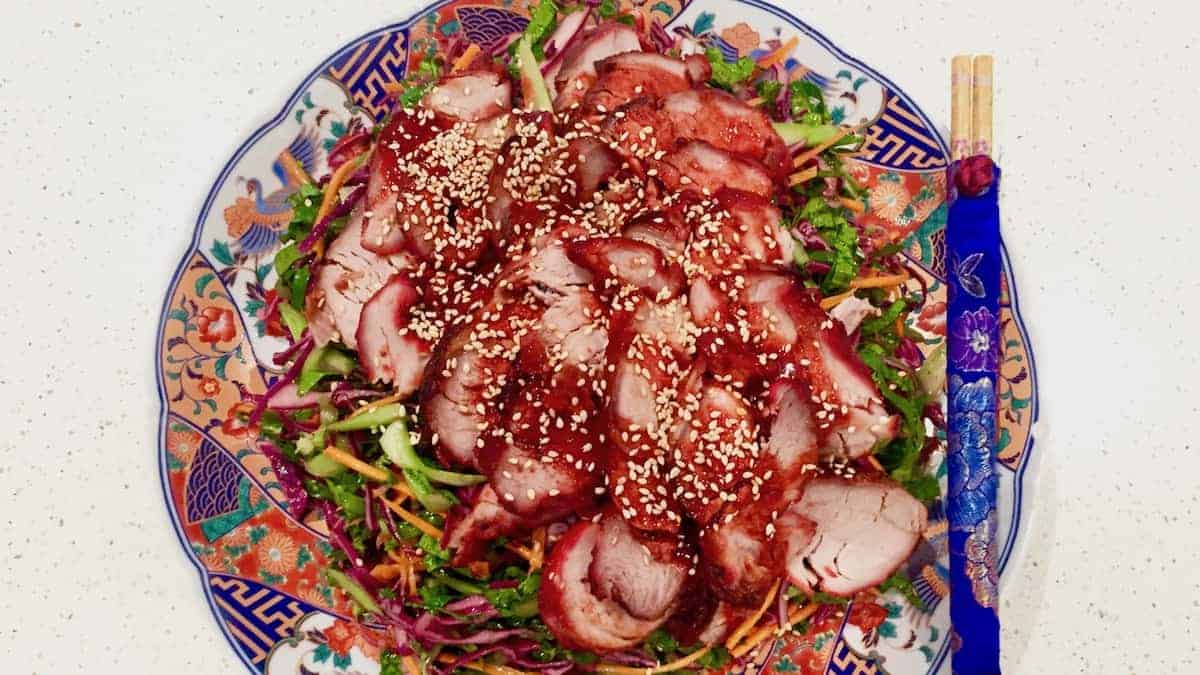 ---