This Epic Heirloom Tomato Salad is a delicious and colourful way to enjoy your summer tomatoes! The creamy whipped feta creates a decadent and luxurious dish that will be sure to impress.
Easy to make and tasty, this tomato salad is a beautiful addition to any summer meal. This pretty salad can be whipped up quickly, making it perfect for weekday meals. The vibrant colours and sweet flavour of the tomatoes provide an excellent contrast to the creamy whipped feta, making this salad ideal for warm-weather dining.
If you are mad about summer tomato salads, then why not try our Italian Tomato Salad, our simple Tomato Salad with Fresh Herbs or even our Tomato Bocconcini Salad?
💡Top Tips 💡
As there are only a few ingredients in this summer tomato salad it is important to choose top-quality ingredients.
Look for ripe tomatoes, their flavours have developed, and they taste so much better.
If you have time, salt the tomatoes by placing them in a mixing bowl with some sea salt, then let them stand for 10 minutes or so to enhance their flavour, and then discard the tomato water.
Whip up a double batch of the whipped feta; it's just so moreish that I always struggle to have enough left for the salad!
What is So Special About Heirloom Tomatoes?
You are in tomato nirvana when you bite into an heirloom tomato variety; far superior to ordinary tomatoes, they're juicy, sweet, aromatic and full of exceptional tomatoey flavour; the difference is incomparable.
Juicy heirlooms are notorious for their interesting colours, which can range from bright tomato red, and white to black and yellow or pink-striped to variegated.
Heirloom tomatoes present a variety of shapes, such as pear, oblong, round, and oval. Their sizes may vary from small grape-sized fruits to giant-sized varieties.
The only drawback is that they are thin-skinned and fragile, which means that they can easily be damaged and spoil quickly. So it makes sense to use them soon after buying, but trust me, that will not be a problem; they are just so yummy!
Choosing the Best Tomatoes
Look for ones that are firm, evenly coloured, and fragrant. Avoid tomatoes that exhibit any bruising or soft spots for optimal freshness. If you can, choose heirloom tomatoes from your local farmers market, as they are likely to be the freshest and best quality.
Ingredients & Substitutions
This salad is made without any type of acidulants, such as vinegar or lemon juice; we have relied instead on the whipped feta for some tangy flavour.
Heirloom Tomatoes - this is a simple tomato salad, so it is essential that you choose your tomatoes wisely! Ideally, choose any heirloom varieties. I also like using aromatic truss or beefsteak tomatoes as they are somewhat similar.
HINT - if you can't smell that wonderful tomatoey aroma, then give them a miss.
Basil - tomato and basil are just perfect together, and that's why they are such a classic pairing. You can try some mint here or fresh oregano if you don't have any to hand.
Olive Oil - it is important to look for a good quality olive oil; opt for a "virgin" or "extra virgin" variety as the oil has been extracted mechanically, not chemically.
Whipped Feta - creamy, salty, tangy and just so scrumptious you are going to be making this A LOT; it is that incredible.
Want to try making a "HOT" & Spicy Version? Add sliced fresh chilli to your tomatoes and minced red chilli or chilli flakes to the whipped feta. I will leave it up to you how HOT you like it.
You Will Need
How to Make Heirloom Tomato Salad
Step 1 - Prepare the Ingredients
Gently wash your tomatoes, shake to remove the excess water, cut off the tops, bottoms and white core and either cut them into wedges or into chunks.
Transfer them to a bowl and season with some sea salt; gently toss to combine and let them stand for ten minutes to allow them to release their flavour.
Pick the small leaves from your basil stems and cut the large leaves chiffonade style.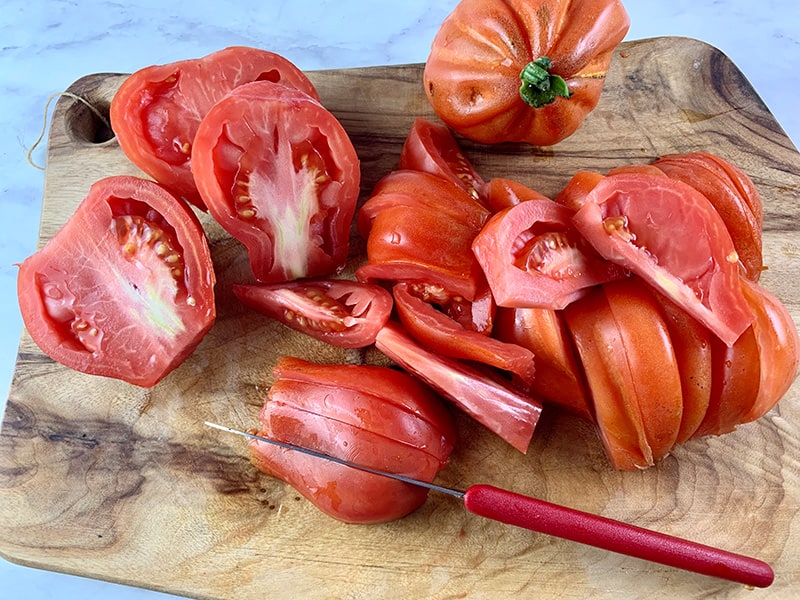 Step 2 - Blitz the Whipped Feta
First, place the crumbled feta in a food processor and pulse until smooth.
Add the chopped basil leaves, cream cheese and olive oil and pulse until smooth and creamy.
Step 3 - Assemble Salad
Smear the whipped feta on one side of a salad platter, pile the tomato wedges on the other side, and season with some cracked black pepper to taste.
Drizzle over the olive oil and scatter the basil leaves on top.
Keep your Heirloom Tomato Salad chilled in your fridge until you are ready to serve (up to 1 hour).
Serving Suggestions
Another salad that you can serve with just about anything and guaranteed to please everyone.
I first made this delicious summer salad for a girly lunch with zucchini and caramelised onion tart. The girls just loved it and were dipping their fresh bread into the leftover tomato and oil juices and smearing the whipped feta on top! 🙂
I have also made it with a cherry tomato medley and smoked some of the tomatoes as part of a summer Christmas lunch with our roast turkey and ham. Everyone skipped the cranberry sauce and dove straight for the whipped feta – we're Greeks, so no surprise there.
It has also been enjoyed at countless family barbecues as it is great with grilled meats.
It is great alongside a whole chicken as a main or with any roast, for that matter.
Or you could also serve it with pasta or with Dukkah crusted schnitzel.
What Else Can I Do With My Whipped Feta?
Try it as a dip for crudités and pita chips.
As part of a mezze platter.
Great as a spread for wraps and sandwiches.
Wonderful as a stuffing for garlic chicken fillets.
Smear it on the bottom of a plate as a base for lamb cutlets with fresh tomato and herb salsa on top.
Great on toasted sourdough with avocado slices as a snack (sprinkle some Dukkah on top, and you will be in heaven).
People Also Ask...
Can I make it ahead?
You can prepare the whipped feta several days in advance (approximately 2-3) and store it covered in your fridge.
As it hardens in the fridge, it is a good idea to take it out 1-2 hours ahead of time so that it comes to room temperature before assembling your salad.
You can put it together an hour in advance; just ensure that your basil leaves are dry so that they don't turn brown.
How to store your tomato salad?
Pop it in an air-tight container, and it should keep for 2 days. Nothing beats ice-cold tomatoes on a hot summer day!
What can I do with the leftovers?
Any leftovers (it never happens at our house!) are good the next day in the fridge. Great with some tinned tuna or salmon for lunch or in a wrap with some grilled chicken.
You can always blitz the tomatoes in a blender or food processor and freeze them to add to your next tomato-based sauce.
What diets is it suitable for?
Heirloom tomato salad can be eaten by Gluten-Free; Keto; Low Carb; Nut-Free and Vegetarian dieters. For vegan dieters, prepare this salad without the whipped feta or replace it with vegan feta instead.
Each serving contains 438 calories with a net carb count of eight grams.
(Nutrition information is calculated using an ingredient database and should be considered an estimate).
Nutritional Information.
This delicious salad is a healthy and flavourful dish that packs a nutritional punch. A one-cup serving of this salad contains a good source of vitamins A, C and K, as well as dietary fibre, folate and potassium. Additionally, feta cheese adds a generous amount of calcium and protein. Enjoy this summer salad for a light and nutritious meal with crusty bread.
Try It With a Tomato Medley Instead
This is the version made for Christmas Lunch 2018 with Ox-heart tomatoes, kumata (Russian black tomatoes) and yellow mini Roma tomatoes (I had blanched and smoked the yellow Romas). I also used two different types of fresh basil from our garden, both Greek and sweet basil.
Recipe Card
In this vividly coloured heirloom tomato salad, the tomatoes are truly the star, the creamy salty whipped feta is a perfect foil to the sweetness from the heirloom tomatoes. A quick yet tasty salad to enjoy with weekday meals.
Print Recipe
Pin Recipe
Rate this Recipe
* Times are an estimate and will depend on your skill level
Equipment
Small Food Processor or Bullet / High Speed Blender
Ingredients
For the salad…
6

medium

heirloom tomatoes

(I used very ripe ox-heart tomatoes - approximately 850 grams/30 ounces)

4

tablespoons

olive oil

(good quality)

¼

cup

small basil leaves or micro basil

Sea salt
For the whipped feta…
1 ½

cups

feta (crumbled)

(approximately 230 grams/8.10 ounces)

⅓

cup

cream cheese

(approximately 80 grams/2.8 ounces)

¼

cup

basil leaves, chopped

2

tablespoons

olive oil
Instructions
Gently wash your ox-heart tomatoes, shake to remove the excess water, cut off the tops and bottoms then slice into wedges. Transfer to a bowl and season with some sea salt, to allow them to release their flavours.

Place the crumbled feta in a small food processor and pulse until smooth, add the chopped basil leaves, cream cheese and olive oil and pulse until smooth.

Smear the whipped feta on one side of a salad platter, pile the tomato wedges on one side, then drizzle over the olive oil and then scatter with the basil leaves. Serve immediately.
Nutrition information is calculated using an ingredient database and should be considered an estimate.
Calories:
438
kcal
|
Carbohydrates:
11
g
|
Protein:
11
g
|
Fat:
40
g
|
Saturated Fat:
15
g
|
Polyunsaturated Fat:
3
g
|
Monounsaturated Fat:
20
g
|
Cholesterol:
71
mg
|
Sodium:
700
mg
|
Potassium:
574
mg
|
Fiber:
3
g
|
Sugar:
9
g
|
Vitamin A:
2420
IU
|
Vitamin C:
30
mg
|
Calcium:
323
mg
|
Iron:
1
mg
---