Are you ready to embark on a journey through the diverse world of cabbage? In this post, we showcase 10 cabbage varieties, offer advice on selecting and storing them, share tips on preparing this humble veggie, uncover its impressive health benefits, and explore some flavour pairings and cooking methods. Whether you're a seasoned cabbage enthusiast or a curious beginner, get ready to unlock the secrets of this incredible vegetable!
Cabbage, my friend, is a fantastic veggie! It's part of the Brassica family, also known as cruciferous vegetables, which includes other tasty favourites like broccoli, Brussels sprouts, cauliflower, collard greens, kale, and turnips.
This incredible vegetable has been enjoyed around the world for centuries and is packed with nutrients. Its crunchiness, distinct flavour, and amazing health benefits make it a go-to choice for cooks and a great low-calorie option for those looking to maintain a healthy diet.
But, are you aware that there are numerous cabbage varieties, each with its own unique characteristics and culinary applications? Let's delve into the world of cabbage and explore some of the most common types of cabbage.
Cabbage History 🤔
Did you know that cabbages are one of the oldest cultivated vegetables known to man? Yup, they originated in the Mediterranean region and have been part of our diets for centuries!
Ancient civilizations such as the Egyptians, Greeks, and Romans recognised their nutritional value and incorporated them into their meals and even medicinal practices.
It played a significant role in European cuisine during the Middle Ages, as it was easy to store and preserve for long periods, making it an essential source of sustenance during harsh winters.
Over time, different cabbage varieties were developed, each with its unique flavours, textures, and culinary uses.
Most Common Variety of Cabbages
One of the most commonly recognised varieties that can be easily found in supermarkets. Also known as White Cabbage or Cannonball Cabbage
Appearance and Flavour - it has a round shape with tightly packed leaves, and it boasts a crisp texture and a slightly peppery taste.
Culinary Uses - it is used in traditional recipes such as corned beef and cabbage, potato colcannon, coleslaws, salads, stir-fries, for roasting, in soups, stews and casseroles and fermented cabbage dishes like sauerkraut.
Nutrition - it is an excellent source of fibre, vitamins C and K, and other essential nutrients.
Have you ever stumbled upon a cabbage that seems like it's been flattened by someone? Well, then it is more than likely a Jaroma cabbage.
Appearance and Flavour - they look like a regular green cabbage that has been squashed to make it flatter, with a mild and slightly sweet flavour.
Culinary Uses - can be used as you would a green cabbage.
Nutrition - just like green cabbage, vitamins C and K and an excellent source of fibre,
Curly, elegant savoy was named after the Savoy region in France and is also known as Milan Cabbage or Lombard Cabbage after Milan and the Lombardy region in Italy.
Appearance and Flavour - it is easily distinguishable by its crinkled, dark green leaves that turn to light yellow as they get closer to its centre. It is known for its delicate and tender texture, as well as its mild, sweet flavour.
Culinary Uses - the leaves are often used in soups, stews, and casseroles, as they readily absorb flavours during cooking. It also works well as a low-carb wrap, stuffed cabbage rolls, stir-fries, and raw in salads.
Nutrition - it is rich in vitamins A and C; Savoy cabbage offers a healthy boost to any meal.
Also known as purple cabbage, the high concentration of anthocyanins in red cabbage is what gives it its brilliant colour.
Appearance and Flavour - it has a tightly packed head and a vibrant purple hue that will add a beautiful pop of colour to your dishes. It has a peppery taste becoming sweeter and softer once cooked. It is slightly milder tasting compared to green cabbage.
Culinary Uses - red cabbage retains its colour well during cooking, especially if you add some vinegar or lemon juice to the pot while you cook it. It is an excellent choice for roasting, braising, pickling, and using in slaws. It is also popular in many European dishes, such as German-style sweet and sour cabbage.
Nutrition - it is packed with antioxidants, particularly anthocyanins, carotenoids and phytonutrients. It has anti-inflammatory properties, attributed to the phytochemical sulforaphane.
A variety that is known for its hardiness and ability to withstand colder temperatures.
Appearance and Flavour - it has a round or slightly flattened shape with crinkled leaves that range in colour from blue-green to purple. It has a sweet and earthy flavour.
Culinary Uses - it is often used in cooked preparations, such as braising, roasting, or adding to soups.
Nutrition - packed with nutrients such as vitamin C, vitamin K, and dietary fibre.
This variety of cabbage is available during the spring and early summer. It is also known as Hispi, Conehead, Sugarloaf or Sweetheart Cabbage.
Appearance and Flavour - it has a pointed head with pale green, tender leaves. It has a delicate flavour and a tender texture.
Culinary Uses - it is commonly used in salads, slaws, stir-fries, and soups.
Nutrition - a nutrient powerhouse containing vitamins C and K, as well as dietary fibre and zinc.
A beloved ingredient in Asian cuisine, and is also known as Chinese Cabbage or Wombok.
Appearance and Flavour - it has elongated, oblong-shaped leaves that are pale green and crinkled. This variety has a more delicate and mild flavour compared to other cabbages, making it a favourite in Asian cuisines.
Culinary Uses - is widely used in stir-fries, soups, and kimchi, a traditional Korean fermented dish. Its crisp texture and slightly sweet taste also make it a fantastic addition to salads and spring rolls.
Nutrition - rich in essential nutrients like vitamin C, vitamin K, and folate.
Bok Choy and Pak Choy are also members of the Chinese cabbage family.
Appearance and Flavour - Pak Choy has light green leaves and stalks while Bok Choy has white stalks and darker green leaves. Prized for its crispness and mild, slightly peppery flavour.
Culinary Uses - Bok/pak choy is frequently used in stir-fries, soups, steamed dishes and raw in salads; its versatility allows it to be enjoyed both cooked and raw.
Nutrients - It is a rich source of vitamins A, C, and K, as well as important minerals like calcium and potassium.
It is an Italian variety of kale and is also known as Cavolo Nero, Black Cabbage, Lacinato or Dinosaur Kale.
Appearance and Flavour - it has dark, bluish-green leaves that resemble the texture of dinosaur skin. It has a long and narrow shape with heavily wrinkled leaves. It boasts a slightly sweeter and milder flavour compared to other cabbage varieties.
Culinary Uses - it is used in a variety of soups, stews, stir-fries, and salads. Its tender leaves hold up well during cooking and provide a delightful chewiness.
Nutrition - packed with nutrients such as vitamins A, C, and K, along with fibre, calcium, and iron.
The name "Brussels sprouts" originated from the capital city of Belgium, Brussels, where they were widely cultivated in the 16th century.
Appearance and Flavour - they are small, compact cabbages that grow in clusters along a stalk. They have a strong flavour and a slightly bitter taste.
Culinary Uses - Brussels sprouts are typically roasted, steamed, sautéed, or used in casseroles and salads.
Nutrients - a nutrient-dense vegetable, providing significant amounts of vitamins C and K, dietary fibre, folate, and potassium.
When Are Cabbages In Season? ☀️ ❄️
While you will find most cabbage varieties throughout the year, they are at their peak during Autumn and Winter. While pointed cabbage is at its peak during the Spring and early Summer months.
Healthy Benefits ⚖️
Crunchy cabbage is nutrient-dense and a great source of many vitamins and minerals with many health benefits.
It is an excellent source of vitamin K (good for bone health and blood clotting), vitamin C (maintains and repairs body tissue, helps absorb Iron and helps form collagen) and vitamin B6. They are also a very good source of manganese, potassium, vitamin B1, folate (makes red and white blood cells), potassium and dietary fibre (healthy bowel) and copper.
In addition, Red Cabbage contains anthocyanins; this gives it its gorgeous magenta-red colour, which also makes it high in antioxidants.
Choosing the Best Cabbage 🥇
When it comes to choosing the perfect cabbage, opt for the one that feels heavy in your hands, and has crisp leaves with bright and vibrant colours. Avoid cabbages with droopy, wilted, yellow or discoloured outer leaves.
Be on the lookout for signs of insect damage. The tightness of the outer leaves is a clear indication of its freshness. So, if you notice any separation from the head of the cabbage, it may be a sign that it's past its prime and is likely to be less flavourful.
You may also want to pay attention to its odour – a strong smell could indicate that it's starting to rot from the inside. Also, look at the colour of the bottom stem – a darker colour could mean that it has been oxidising for a longer time.
Storage Tips 💡
Cabbages are remarkably easy to store and keep fresh for a long time. Simply place them in a bag inside your fridge's crisper drawer, but make sure to leave the bag slightly open to let the gases escape. They will keep for a couple of weeks when stored this way.
Cabbages that have been cut will lose their freshness more rapidly than whole cabbages. But to extend its shelf life, slice it gradually, to minimise the exposed surface area as much as possible, allowing it to remain fresher for longer.
Freezing cabbage is definitely not an option it degrades quickly and becomes a soggy mess. A better alternative would be to try fermenting your own sauerkraut. Not only is it a more effective solution, but it also results in delicious and nutritious cabbage that can be enjoyed for months!
For faster food prep shredded cabbage can be stored well in the fridge; it crisps up beautifully! Place it in a container, cover it with water, and keep it in the fridge for 3-4 days until you are ready to use it. Before adding it to your salad, strain it well and rinse it thoroughly under cold water as it will have a slight smell to it.
What Goes Well With Cabbage? 💚
Apple, apple cider vinegar, bacon, butter, caraway seeds, cheese (cheddar, feta, goat's), chilli, cream, curry powder, garlic, ginger, juniper berries, lemon (juice, zest), mustard, onion, pepper.
Surprise Pairings - try it with coconut, coriander/cilantro, eggplant and mushrooms.
Combinations to Try
cabbage + apples + cider vinegar
cabbage + bacon + blue cheese + walnuts
cabbage + balsamic vinegar + brown sugar
cabbage + chestnuts + pork
cabbage + duck fat + goat cheese + red wine vinegar
cabbage + pancetta + ricotta cheese
cabbage + lime + soy + red capsicum/pepper + peanuts/cashews
How to Prepare Cabbage 🔪
Preparing cabbage is a straightforward process that can be adapted based on personal preference and the desired dish. Here is a general guide on how to prepare cabbage varieties:
For Wombok or Chinese Cabbage
To start, let's get rid of its hard core and those unsightly wilted, discoloured, and thick outer leaves.
Once that's done, cut the cabbage head lengthwise in half, carefully pulling apart the leaves and giving them a good rinse in the sink with cold water.
Make sure to pat them dry afterwards to get rid of any excess water.
Finally, it's time to cut the cabbage according to your recipe.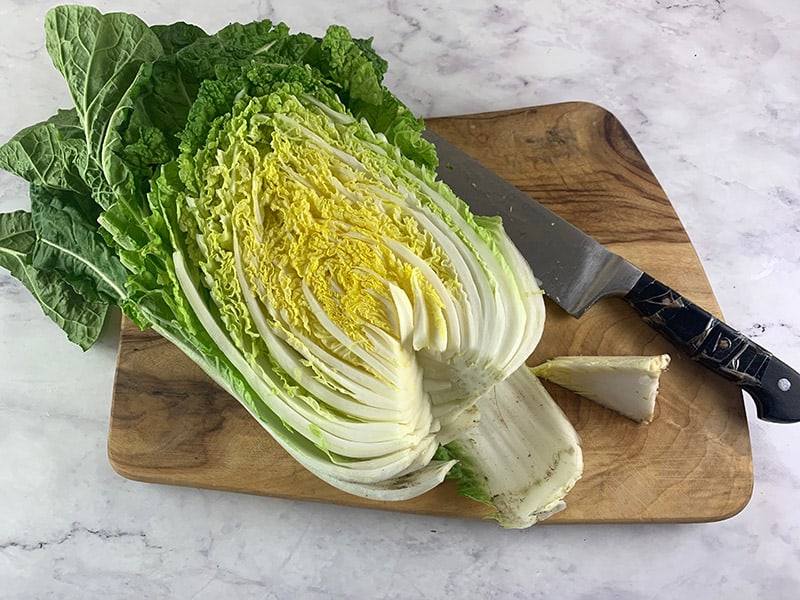 For Other Cabbage Varieties
Here's how you can prep your cabbage for cooking or salad making:
Firstly, remove any wilted, discoloured, or thicker outer leaves from the cabbage and cut them into wedges. Rinse these wedges under cold running water.
If you find any signs of worms or insects after cutting open the cabbage, simply soak it in salt water for 20 minutes to rid it of any pests.
Next, cut out the hard core from each cabbage wedge.
Now that you've cut the cabbage into wedges and removed the core, you can shred it.
There are a few different ways you can go about it, depending on what tools you have handy in your kitchen. It can be shredded by hand with a knife, using a mandoline or v-slicer or in a food processor with the thin slicing attachment. Step-by-step instructions are below.
I like to pop my shredded cabbage in a colander in the sink and thoroughly rinse it under cold running water. Then I will strain the excess water and pat it dry.
And that's it! You're all set to use your freshly shredded cabbage in your favourite dishes.
If you would like to soften your cabbage before using then you may add a sprinkle of salt and massage it for a few minutes for a softer texture. There is no need to rinse the salt, as this will season the salad.
SPRINKLE SALT
MASSAGE TO SOFTEN
How to Shred Cabbage
My preferred method of shredding cabbage is with a mandoline or vegetable slicer as it gives me shreds that are thinner and even without the hassle of having to get out my food processor.
Take a wedge of cabbage and place it face down on your chopping board.
For long shreds slice carefully along the vertical edge; for short shreds slice along the horizontal edge.
Continue until you have your desired amount of cabbage.
With A Mandoline or Slicer
Set up your mandoline slicer, use your flat blade for longer shreds or a julienne blade for shorter shreds.
Take a wedge of cabbage and pierce it with your safety guard to secure it in place and protect your fingers.
Place your slicer over a bowl so that the shreds can be collected.
Then glide your cabbage up and down the front of the slicer until you have your desired amount of cabbage.
---
Set up your food processor with either the flat blade for longer shreds or the grating blade for shorter shreds.
Cut your wedges into slices that will fit the chute/feed tube of your food processor. Make sure not to cut horizontally as this will disconnect the leaves.
Then feed each wedge into the feed tube using the pusher, emptying the bowl when it is full. Continue until you have your desired amount.
---
Some Cooking Methods
Such a versatile veggie that can be cooked in so many different ways!
Boiling: Place cabbage in a pot of boiling water and cook until tender. This method is commonly used for dishes like warm salads; you may add some aromatics like bay leaves, and juniper berries or for some sweet flavour part of a cinnamon stick or cloves. It is also boiled with other veggies, proteins and aromatics for soups and stews.
Stir-Frying: Heat oil in a pan or wok, add the cabbage, and stir-fry over high heat until it reaches the desired tenderness. Great with some coconut or sesame oil.
Roasting: Toss cabbage with olive oil, salt, and pepper, then roast in the oven until the edges turn crispy and golden brown.
Sautéing: Slice your cabbage into quarters, lightly coat with some oil and sear each side in a hot pan as you might steak, then drizzle with your favourite dressing.
Stuffing: Cabbage leaves are perfect for stuffing with rice and minced meat, and I like to use savoy cabbages for this as their loose heads make it easier to separate the leaves.
First, make a small cut around the core of the cabbage so the leaves come apart easier once cooked. Pop into a large saucepan and cover it with water, bring it to a boil and cook until the leaves have softened slightly and become pliable. Drain and rinse under cold water, then carefully peel the cabbage leaves to use for stuffing.
Are You Ready to Try Some Cabbage Salads?
---