This creamy dill dressing is light and tangy as we have used Greek yoghurt instead of just mayo or sour cream. Try it on your next coleslaw or as a veggie dip!
---

What Makes a Yoghurt Greek?
Traditional Greek yoghurt is made with goat's milk that has been cultured with an active bacteria; this ferments the milk to give it its tangy taste.
It is then strained to remove most of the whey and liquid and it also removes some of the lactose sugars, salt, and water. This leaves behind a thicker, creamier product that is high in protein and much more nutritious.
More on the Ingredients
Greek Yoghurt - we have used Greek yoghurt for a lighter, healthier dressing. If you strain your Greek yoghurt it will give your dressing a thicker, creamier consistency which then makes it ideal to use as a dipping sauce.
Mayo - I prefer to use whole egg mayonnaise for all my recipes because I just think has a much richer flavour than normal mayo.
Dill - there is just something so magical when you combine Greek yoghurt and dill it is no wonder it is such a classic combination. If you do not like dill then fresh mint makes a wonderful alternative.
Lemon Juice or Apple Cider Vinegar - for a wonderful tangy hit which gives a delightful piquancy to this dressing.
How to Make It
Wash your dill, shake to remove excess water, cut off the stems then chop. 
Place the yoghurt, mayo, lemon juice or apple cider vinegar, 2 tablespoons of dill in a small mixing bowl, season with salt and pepper.
Mix well until everything is combined and the dill is evenly distributed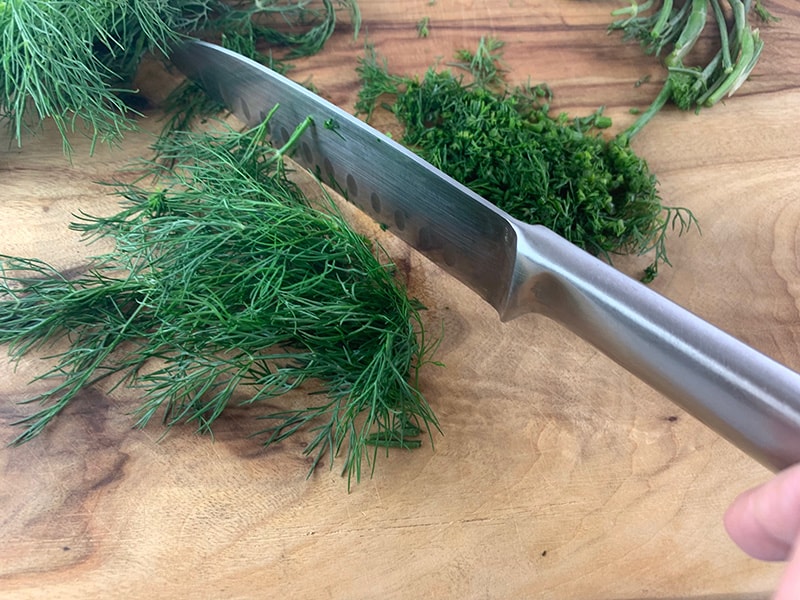 What to Use Creamy Dill Dressing On
Thinly sliced cucumbers
Coleslaws
Kale, silverbeet or chard salads
Sturdy lettuce salads such as iceberg or cos/romaine
With grilled fish as an alternative to tartare sauce
As a delightful dipping sauce for fresh vegetables
How Long Can I Store It For?
As this is a dairy-based dressing with citrus it really doesn't have a long life. I would try to use it soon after making and keep it covered in a covered container in the fridge for 1-2 days at the most.
Salads We Have Used It on
Recipe Card for Creamy Dill Dressing