This Balsamic Mushroom Salad Recipe will steal the show when served alongside your steak dinner or your creamy risotto. Sautéed in syrupy balsamic, rosemary and garlic then added to rocket (arugula) they will take you on a trip to mushroom heaven.
What People Are Saying
"Made this and loved it! Great balance of flavours. I added in the rice noodles and homegrown baby tomatoes which really elevated the dish. I had it for dinner and kept the dressing on the side so the salad kept crunchy for leftovers." … Lou\
About This Salad
The aged balsamic is rich and sweet with glossy colour and a velvety texture, just amazing with adorable little white button mushrooms, gorgeous Swiss browns and aromatic rosemary that altogether make a mushroom mix that is perfect with peppery rocket and shaved parmesan.
You Will Need
💡Top Tips
Buy the best quality balsamic vinegar you can afford as your mushrooms will truly benefit from the sweeter and more syrupy taste of the older aged balsamic vinegar while you are sautéing.
Do not leave your mushrooms soaking in water, all you need to do is immerse them slightly to dislodge the dirt, then quickly remove them and pat them dry. If they become waterlogged they will not brown in your pan.
Make sure that you use the largest frypan you have so that you can spread your mushrooms out in a single layer, this will allow the moisture to evaporate and allow them to brown in the oil and not steam.
How to Make It (Step-by-Step Instructions)
Step 1 - Prep the Mushrooms
Clean your mushrooms by filling a bowl with water and immersing them in the water until all the dirt has been dislodged. Lift them out gently so you don't disturb the dirt at the bottom, and pat them dry with a clean towel.
Cut off the protruding stalk and cut them into half or quarters for the larger mushrooms.
Step 2 - Sauté Your Mushrooms
Heat a large heavy-based pan on medium-high heat with some olive oil, once hot add the mushrooms in batches and fry them until golden brown (approximately 5-10 minutes per batch).
Once all the mushrooms have been browned add them all back to the pan, with the minced garlic then either the rosemary stalks if you would like to remove them or the rosemary leaves if you would like them in your salad. Pour in the aged balsamic which will sizzle, stir until combined and cook a further 2-3 minutes until the balsamic evaporates, transfer to a large mixing bowl when done.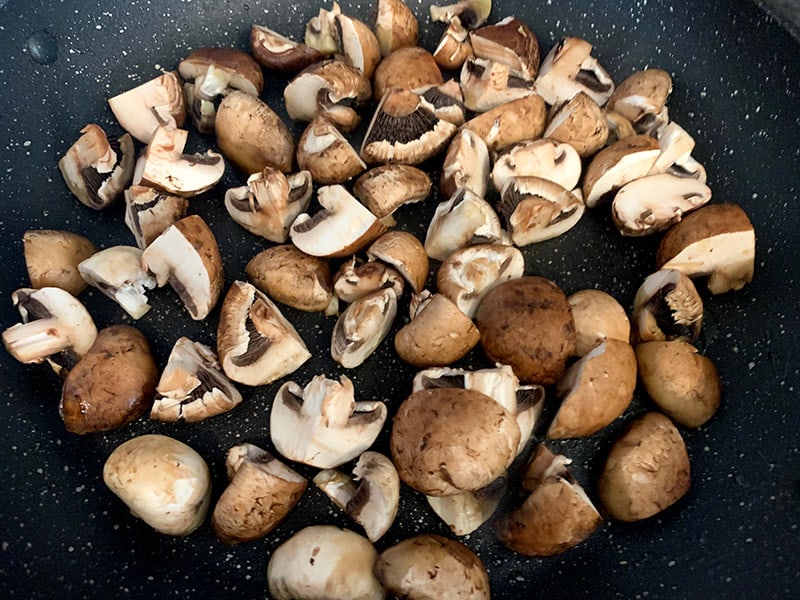 Step 3 - Assemble Your Mushroom Salad
Wash your rocket under cold running water, remove any discoloured or damaged leaves, and then either pat dry or spin in a salad spinner to remove excess water.
Add the rocket to the mushroom mix add the extra balsamic and olive oil, and season with salt and pepper. Mix until well combined, taste and adjust seasonings according to your taste.
Arrange in a bowl and add the parmesan flakes on top, garnish with a few rosemary sprigs and a pinch of paprika for colour. Serve and enjoy.
🍽 Serving Suggestions
The meaty mushrooms in this salad make it a meal in itself but this salad can also be a great side to serve at a barbecue. Serve it with a great steak, a beautiful prime rib roast or a herby roast chicken. For a vegetarian option, this salad is great to stir through some pasta or through a basic risotto.
Tips and Questions (FAQs)
What makes balsamic vinegar balsamic?
This balsamic mushroom salad recipe is naturally made with balsamic a dark brown vinegar traditionally made in Italy from unfiltered, unfermented grape juice. The difference with other vinegars is that it is made from pressed grapes and aged like wine in oak barrels rather than being made from fermented alcohol.
How to Choose the RIGHT Balsamic Vinegar
The best quality balsamic vinegars are labelled as aceto balsamico tradizionale, which means that the traditional methods from Modena have been used in processing and aging it.
The better quality vinegars have been made in this way and their production is overseen from beginning to end by a special certification agency. They are aged for longer periods using a multi-barrel process with different types of wood such as oak, cherry, chestnut and juniper to develop their flavours.
Beware of inexpensive balsamic vinegars as this may mean that sulphites have been added to preserve the vinegar. For an authentic balsamic always look to Modena or Reggio Emilia.
Can I Make this Mushroom Salad Recipe Ahead?
You can make the mushroom mix hours before and just stir through the rocket just before serving.
What Can I Do With Leftovers?
Leftovers are great for your lunchbox or stir through some pasta or zoodles the next day for a quick meal.
What Else You Can Do With Your Mushroom Mix!
The mushroom mix also makes a great filling for tarts or a great topping for bruschetta with some shaved or grated parmesan on top.
More Mushroom Salads...
Recipe Card
* Times are an estimate and will depend on your skill level
Ingredients
For the salad...
500

grams

mushrooms mix*

(approximately 17.7 ounces)

4-6

stalks

rosemary

¼

cup

olive oil for sautéeing

Sea salt and cracked black pepper

¼

cup

aged balsamic vinegar

5

cups

baby rocket/arugula, loosely packed

(aproximately 100 grams / 3.5 ounces)

¼

cup

Parmesan, shaved
For the dressing...
4

tablespoons

olive oil, extra virgin

2

tablespoons

aged balsamic
Instructions
Clean your mushrooms cut off the protruding stalk and then half or quarter the larger mushrooms.

Heat a heavy-based pan on medium-high heat, add some olive oil, add the cut mushrooms and rosemary (either stalks or just the leaves) and fry them in batches until golden brown (approximately 10 minutes per batch).

Once all the mushrooms have been browned add them back to the pan, add the aged balsamic and garlic, stir until combined and cook a further 2-3 minutes, place in a large mixing bowl when done.

Wash your rocket and either pat dry with a towel or spin dry in a salad spinner.

Add the rocket, oil and vinegar to your bowl with the mushrooms, season and toss them until combined.

Arrange the salad mix onto a salad bowl scatter the parmesan on top, garnish with a few rosemary sprigs and paprika. Serve and Enjoy!
Notes
* I used a mix of button and Swiss brown mushrooms. But any mushrooms will work just as well in this salad. 
Nutrition information is calculated using an ingredient database and should be considered an estimate.
Calories:
340
kcal
|
Carbohydrates:
14
g
|
Protein:
6
g
|
Fat:
30
g
|
Saturated Fat:
5
g
|
Cholesterol:
4
mg
|
Sodium:
125
mg
|
Potassium:
510
mg
|
Fiber:
4
g
|
Sugar:
7
g
|
Vitamin A:
918
IU
|
Vitamin C:
4
mg
|
Calcium:
121
mg
|
Iron:
1
mg