Love potato salad but not a fan of mayo? Our Patatosalata recipe is here to save the day! This healthier take on traditional potato salad is perfect for hot summer days or as a quick side dish for family dinners. So, are you ready to give your classic potato salad a Greek twist with just a few simple ingredients and a little bit of time?
The combination of creamy potatoes, fresh herbs, tangy vinegar, and smooth olive oil creates a harmony of flavours that will leave your taste buds dancing with delight.
Perfect for a summertime BBQ or a cozy family dinner, this salad is a crowd-pleaser that can be easily customised to suit your preferences. So, enjoy a trip to Greece from the comfort of your own kitchen with Patatosalata, and let your taste buds do the travelling!
For more healthy, mayonnaise-free potato salads, why not try our Roasted Kipfler Potato Salad or our Potato Salad with Egg?
🥔 What Are the Best Potatoes to Use
Traditionally, Greeks use waxy potatoes for their potato salad as they hold their shape well after boiling and have that dreamy, creamy texture.
Some good options for waxy potatoes include baby, red-skinned, or Yukon gold potatoes. These types of potatoes are also less starchy than other varieties, which means they stay firm in the salad.
However, if waxy potatoes are not available, you can also use new or fingerling potatoes as an alternative.
📝 Ingredients & Variations
The beauty of this lip-smacking Greek Potato Salad recipe is that it only requires a handful of readily available ingredients - waxy potatoes, red onions, garlic, parsley and some oil and red wine vinegar to dress it.
But you can customise it to your liking by adding some crumbled feta, olives, capers, dill, roasted red peppers, boiled eggs, and artichoke hearts - all of which are common additions to this classic Greek dish.
🔪 Step-by-Step Instructions
Let's begin by grabbing a pot for boiling the potatoes and a generously sized mixing bowl to add everything as we go.
Step 1 - Boil the Potatoes
For a perfectly cooked and irresistibly delicious salad, start by giving your potatoes a good wash and scrub.
Place them in a large pot of salted water and use enough water to cover the potatoes fully. Bring them to a boil before reducing the heat to a gentle simmer.
Cook until the potatoes are soft and tender (test them with a fork), which should take around 15 minutes or 20 minutes.
ADD POTATOES TO POT AND COVER WITH WATER
TEST THEM WITH A FORK
Step 2 - Wash, Chop Slice and Dice
While the potatoes are cooking, remove the papery skin from the onion and trim the ends; finely dice the onion and prepare the parsley by washing it, removing the stems, and roughly chopping the leaves.
Once the potatoes are done, drain and rinse them under cold water to halt the cooking process.
Then, peel them and cut them into bite-sized pieces, approximately 2.5cm/1-inch in size.
DICE RED ONION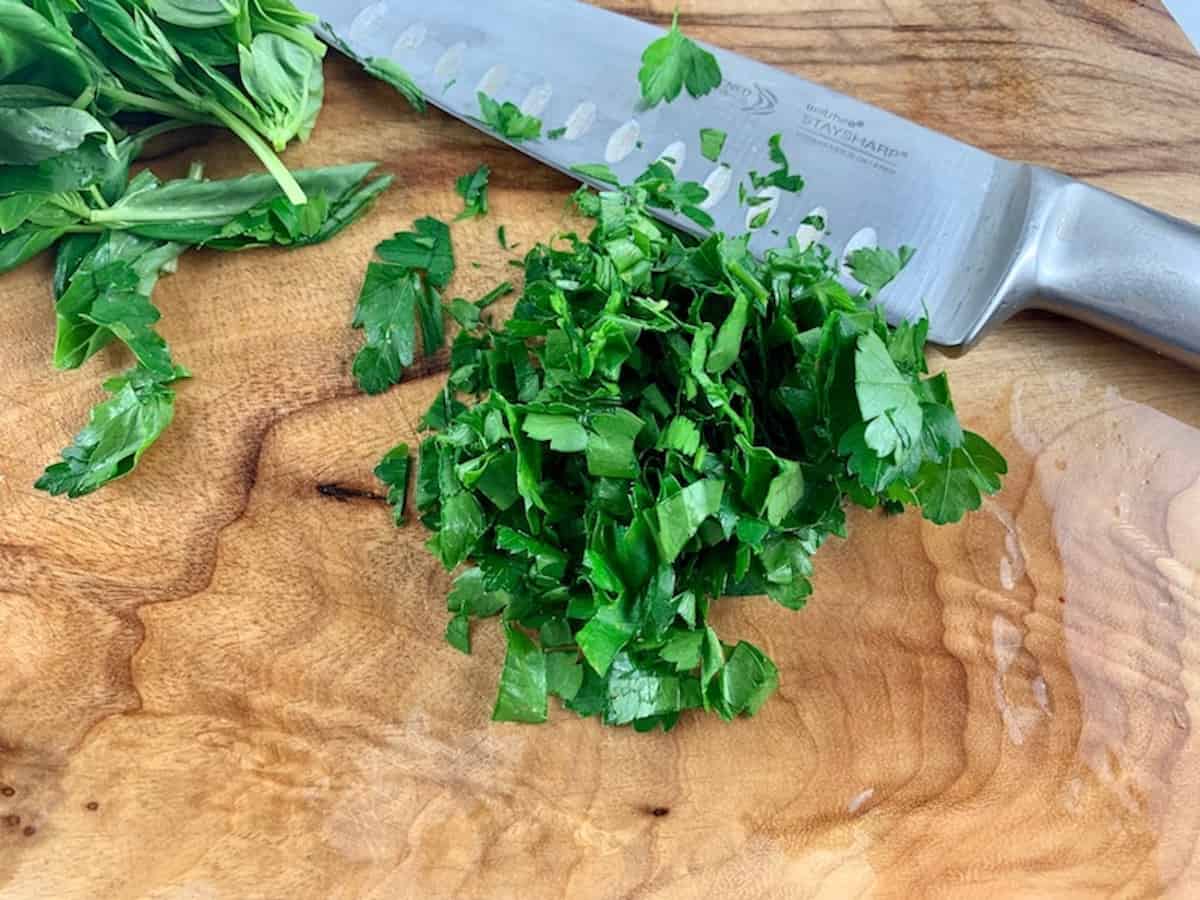 CHOP PARSLEY LEAVES
Step 3 - Assemble the Salad
Add the potatoes with the onion and parsley to a large mixing bowl. Pour over the oil and vinegar.
Season with salt and pepper, toss well to ensure everything is well combined and transfer to a salad bowl.
You can garnish it with some dried oregano if you like and chill the salad until ready to serve, and get ready to indulge in a truly authentic and refreshing taste of Greece!
ADD PREPARED INGREDIENTS TO A BOWL
SEASON AND MIX WELL TO COMBINE
ARRANGE IN A SALAD BOWL, GARNISH WITH OREGANO. SERVE & ENJOY!
🍽 Serving Suggestions
Patatosalata can be served as a side dish to accompany grilled meats, seafood, or other Greek dishes such as souvlaki (marinated and grilled meat skewers) or bifteki (Greek-style burgers) or moussaka.
It is also a perfect addition to a Mediterranean-themed dinner or mezze platter or as a light lunch on its own.
Serve it chilled and garnish with some fresh parsley or crumbled feta cheese for an extra burst of flavour.
💡Tips & Questions
Should I peel the potatoes before boiling them?
It's up to your personal preference. Some people prefer to peel the potatoes before boiling them, while others leave the skins on for added texture and nutrients.
I like to scrub and cook them with the skins on. Not only does this make peeling them easier, but it also ensures that you won't lose as much of the potato as you would if you removed the skins raw.
It typically takes around 15-20 minutes to cook the potatoes until they are tender, depending on the size of the potato.
Can I make this Greek salad ahead of time?
Yes, you can make it beforehand, either several hours in advance or even the day before and store it in the refrigerator until you're ready to serve it.
It will keep in an airtight container in the refrigerator for up to 3-4 days.
While it's not traditional to use lemon juice in this salad, you can certainly experiment with adding a squeeze of fresh lemon juice to the dressing if you like.
Lemon juice can add a bright, tangy flavour that complements the other ingredients in the salad, such as the onion, parsley, and vinegar. However, be mindful not to overdo it, as it can overpower the other flavours in the dish. It's best to start with a small amount and adjust to taste.
Should I serve the potato salad chilled or at room temperature?
Patatosalata is traditionally served chilled, but it can also be served at room temperature if you prefer.
Greek Potato Salad is vegan; vegetarian; paleo; whole30; gluten, dairy and nut free.
Each serving has 216 calories with a net carb count of 21 grams which makes it unsuitable for keto and low-carb dieters.
Recipe Card
* Times are an estimate and will depend on your skill level
Ingredients
800

grams

potatoes

(approximately 6 medium / 28.2 ounces)

½

small

red onion

(approximately 60 grams / 2.1 ounces)

¼

cup

parsley leaves, chopped

⅓

cup

extra virgin live oil

¼

cup

red wine vinegar

Sea salt and cracked black pepper
Instructions
Wash and scrub the potatoes and place them in a large pot, cover them with water, add some salt.

Bring them to a boil, then reduce to a simmer. Simmer until the potatoes are soft, approx, 15 minutes.

In the meantime, dice the onions. Wash the parsley, remove the stems and roughly chop the leaves.

When the potatoes are done, drain and rinse them under cold water to stop the cooking process.

Peel them and then cut them into bite-sized pieces (2.5cm/1-inch).

Add the cooled potatoes, onion, parsley oil and vinegar to a large bowl.

Season and mix well to combine, arrange in a salad bowl and keep chilled until ready to serve.
Nutrition information is calculated using an ingredient database and should be considered an estimate.
Calories:
216
kcal
|
Carbohydrates:
24
g
|
Protein:
3
g
|
Fat:
12
g
|
Saturated Fat:
2
g
|
Polyunsaturated Fat:
1
g
|
Monounsaturated Fat:
9
g
|
Sodium:
11
mg
|
Potassium:
594
mg
|
Fiber:
3
g
|
Sugar:
1
g
|
Vitamin A:
213
IU
|
Vitamin C:
30
mg
|
Calcium:
22
mg
|
Iron:
1
mg