This spring mix salad is a work of art in a salad bowl! Let's zhuzh up a bag of lettuce with by adding some spring veggies with bright colours and various textures and make a refreshing spring salad suitable for every occasion.
---
We have taken a bag of lettuce and added sweet brightly coloured tomatoes, crisp spring snow and sugar snap peas, cool cucumbers and crunchy seeds and drizzled them with a delightful yet simple red wine vinegar and olive oil dressing for a sensational spring salad you won't soon forget.
What's in Spring mix
Spring Mix, also known as "Mesclun," which comes from the Spanish word "mezclar," and translates to "to mix." It is made up of a variety of mixed lettuce and greens with a variety of textures ranging from soft to crisp. The mix is split between sweet and mild flavours and bitter peppery flavours.
The greens you may encounter in your spring mix may include - red romaine, baby spinach, radicchio, green romaine, red oak leaf, mizuna, red leaf, lollo rosso, arugula, red mustard, green mustard, red chard, frisee, and tatsoi.
What can I use as a substitute
I think spring mix salad makes a great base for many a great salad and provides bulk for when you have to feed a crowd in a hurry.
If you are not a fan you can always replace it with either, rocket/arugula leaves, baby spinach, or any lettuce ranging from soft- Bibb or oak leaf to crisp - romaine/cos lettuce.
The other ingredients that make up spring mix salad
Snow Peas & Sugar Snap Peas - added for their delectable crunch and sweetness but if you prefer you can swap with some lightly blanched asparagus or green beans instead.
Yellow & Red Grape Tomatoes - a mix of both for their sunny colour and sweetness. Any combination of small tomatoes would be good here including cherry tomatoes, mini truss tomatoes or a colourful tomato medley. If you only have regular tomatoes on hand then just simply dice them to add to this salad.
Cucumbers - used for their cool freshness as an alternative you can use some thinly sliced celery instead.
Fresh mint for its wonderful aroma and cool sweetness. Can easily be substituted with other soft herbs such as basil, coriander/cilantro, dill or tarragon. 
Seeds - we have used a mix of pepitas, sunflower, Linseeds and both black and white sesame seeds. You can use any combination of seeds you like or any other nuts that you like such almond slivers, pistachios, roasted cashews or hazelnuts. 
Dressing - we have kept it simple here to allow our spring veggies to shine and used a red wine vinegar and olive oil dressing but a drizzle of balsamic glaze would also work well here.
How to make it

1STRING & CUT SNOW & SUGAR SNAP PEAS
Unless you have purchased a stringless variety the strings for sugar snap peas and snow peas will have to be removed.
Pinch the stem end of the pod with either your fingers or a knife then pull the string down towards the other end, to release the peas from the inside run your finger on the inside of the pod. Discard the strings and pods.
More mature pods may need stringing on both sides, often you can do this from both sides at once – by cutting the stem carefully and pulling down both sides at once.
2PREPARE SPRING MIX
Rinse under cold running water in a strainer, remove any wilted or damaged leaves.
Pat dry with a towel or for the best results spin dry in a salad spinner as it will allow the dressing to adhere to the leaves without watering it down.
3PREPARE TOMATOES
Place your tomatoes in a strainer and rinse under cold running water, pat dry to remove excess water then cut them in half using a serrated or tomato knife.
4ASSEMBLE SALAD
Place all the vegetables in a large mixing bowl, Add the seeds, add the red wine vinegar and olive oil, season with salt and pepper, toss until the salad ingredients have been coated with the dressing.
Taste the salad and adjust seasonings according to your taste.
Arrange in a salad bowl and serve immediately.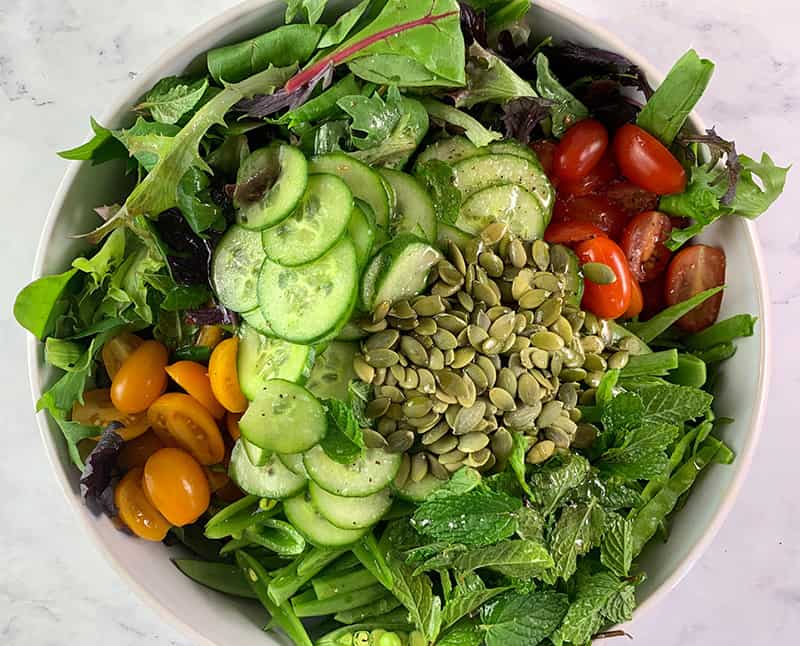 Serving ideas
This spring mix salad has delicate flavours and would pair well with prawns/shrimp, fish, or other seafood, or serve them with a chicken or pork. Try it with:
We served ours with a delicious mushroom polenta tart.
CAN I MAKE SPRING MIX SALAD IN ADVANCE
You can this salad up to 1 hour in advance if need be, the spring mix will soften.
Alternatively, you can prepare the salad minus the spring mix up to 2 hours in advance.. Then add the spring and toss to combine just before serving.
You can easily string and cut the snow peas and sugar snap peas the day before and keep them covered in your fridge until you are ready to assemble the salad.
To be completely honest I loved it, even more, the next day with a tin of tuna for my lunch. The snow peas, sugar snap peas, cucumbers and tomatoes had absorbed the dressing and melded together beautifully - so zingy and full of flavour.
Can I meal prep this salad for weekday lunches?
This salad can become packable and depending on how you like your salad you can do this one of two ways.
For fresh crisp flavour - make up the salad and portion it into containers, place the dressing in a separate container to pour over your salad and toss just before eating.
For marinated deliciousness - make up the salad without the spring mix add the dressing, season and toss then portion into containers, add the spring mix on top to stir through your salad just before eating.
Other Spring salads to try:
* Times are an estimate and will depend on your skill level
Ingredients
4

cups

spring mix salad

(approximately 120 grams)

1

small

punnet Mini Roma / Oval tomatoes

(approximately 200 grams)

1

small

punnet yellow oval tomatoes

(approximately 200 grams)

1

medium

Lebanese or Persian Cucumber

(approximately 120 grams)

1

cup

snow peas

(approximately 150 grams)

1

cup

sugar snap peas

(approximately 150 grams)

¼

cup

mint leaves

⅓

cup

mixed seeds

(I used Pepitas, sunflower, linseeds, black & white sesame seeds)

¼

cup

olive oil

3

tbsps

red wine vinegar
Instructions
Wash and string your snow peas and sugar snap peas, pat dry and julienne.

Wash, dry and slice your yellow and red tomatoes in half.

Rinse your cucumber and slice thinly either using a sharp knife or mandoline/v-slicer.

Wash and dry your mint leaves.

Add all the vegetables, mint, seeds, olive oil and red wine vinegar to a large mixing bowl.

Season and toss your salad, taste and adjust seasonings.

Arrange in a salad bowl - Serve & Enjoy!
Nutrition information is calculated using an ingredient database and should be considered an estimate.
Calories:
140
kcal
|
Carbohydrates:
5
g
|
Protein:
3
g
|
Fat:
12
g
|
Saturated Fat:
2
g
|
Sodium:
28
mg
|
Potassium:
201
mg
|
Fiber:
1
g
|
Sugar:
2
g
|
Vitamin A:
761
IU
|
Vitamin C:
28
mg
|
Calcium:
25
mg
|
Iron:
2
mg