Looking to add a bit of life to a boring bag of salad greens? Well, our Spring Mix Salad Recipe is a work of art in a salad bowl! Full of crisp colourful veggies and crunchy seeds that you can serve with anything and on every occasion.
Have you ever had a look at a bag of lettuce and wanted to make it exciting? Well, get ready to zhush it up with our brightly coloured spring mix salad recipe!
We are going to add some sweet brightly coloured tomatoes, crisp spring snow and sugar snap peas, cool cucumbers and crunchy seeds then drizzle them with a delightful yet simple red wine vinegar and olive oil dressing for a sensational spring salad recipe you won't soon forget.
❤️ What I Love About This Salad ❤️
The colour, the crunch, the versatility - it really is a happy salad that makes me smile each and every time I make it! It is such a great go-to recipe that pairs well with everything you care to serve it with.
Ingredients & Substitutions
A bag of Spring Mix or Mesclun Salad - this is the base of our salad but it is easily replaced with any bagged lettuce variety you have on hand or with other greens - rocket/arugula leaves, baby spinach, or any lettuce ranging from soft- Bibb or oak leaf to crisp - romaine/cos lettuce.
Oh if you need some tips on how to choose bagged salad then you have got to read our post on Pre packed Salads.
Snow Peas & Sugar Snap Peas - added for their delectable crunch and sweetness but if you prefer you can swap with some lightly blanched asparagus or fresh green beans instead.
Yellow & Red Grape/Roma Tomatoes - a mix of both for their sunny colour and sweetness. Any combination of small tomatoes would be good here including cherry tomatoes, mini truss tomatoes or a colourful tomato medley. If you only have regular tomatoes on hand then just simply dice them up to add to this salad.
Cucumbers - used for their cool freshness, as an alternative you can use some thinly sliced celery instead.
Fresh mint for its wonderful aroma and cool sweetness. Can easily be substituted with other soft herbs such as basil, coriander/cilantro, dill or tarragon.
Seeds - we have used some pepitas, but you can add any of your favourites or add a mix. Choose from sunflower, linseeds, and both black and white sesame seeds. Prefer nuts? Then try some almond slivers, pistachios, cashews or hazelnuts.
Dressing - we have kept it simple here to allow our spring veggies to shine and simply used a red wine vinegar and olive oil dressing (a teaspoon or two of mustard doesn't hurt either). But, you could also drizzle it with some balsamic glaze if you prefer..
CONSIDER ADDING - diced up avocado to add some creaminess and to boost the healthy fats.
How to Make It
Step 1 - String and Cut Snow + Sugar Snap Peas
Unless you have purchased a stringless variety, the strings for sugar snap peas and snow peas should be removed. In all honesty, if you just can't be bothered, it is not the end of the world if you don't!
No need to panic; it's a cinch! Just pinch the stem end of the pod with either your fingers or a knife, then pull the string down towards the other end and just throw the strings away.
Your mature pods may need stringing on both sides and often you can do this in one go. Cut the stem carefully and pull the strings down from both sides at once.
Stack a few snow peas on top of each other and julienne them.
Cut your sugar snap peas in half lengthwise or if they are thick cut them into thirds, lengthwise.
Step 2 - Prepare Spring Mix
Carefully rinse your salad mix in a colander under cold running water, then remove any wilted or damaged leaves.
Pat dry with a towel, or for the best results, spin dry in a salad spinner, this allows the dressing to stick to the leaves without watering it down, and it will also stop your salad from going soggy.
Step 3 - Prepare Remaining Ingredients
Rinse your tomatoes in a strainer under cold running water; pat dry to remove excess water, then cut them in half using a serrated or tomato knife, their edges make it so much easier to cut through the delicate flesh without squishing them.
Rinse your cucumber, trim the ends, and then slice thinly either using a sharp knife or with a mandoline/v-slicer.
Rinse the mint leaves, pat them dry, and then strip the leaves from the stems.
Step 4 - Assemble Your Salad
Place all the vegetables in a large mixing bowl, add the seeds, add the red wine vinegar and olive oil, and season with salt and pepper.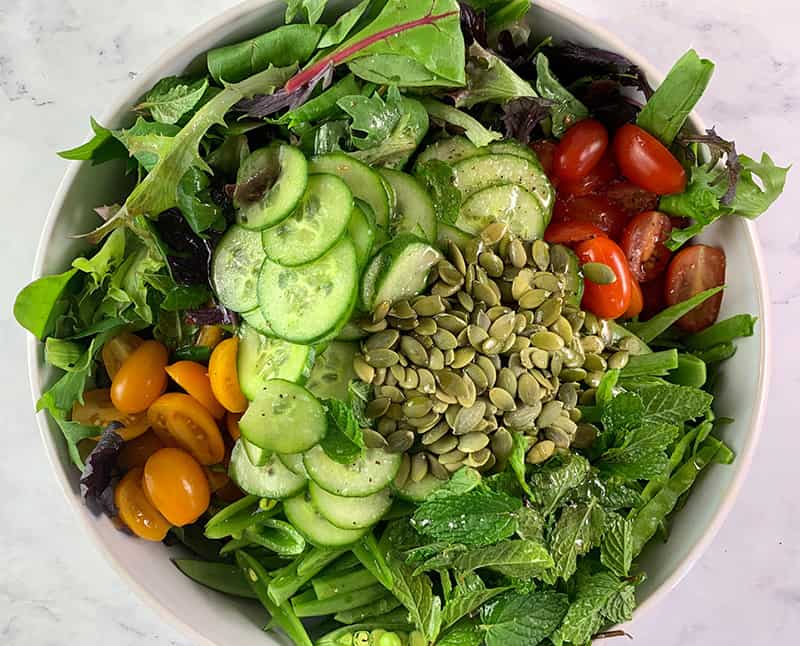 Toss your salad until ALL the salad ingredients have been coated with the dressing. Taste the salad and adjust the seasonings according to your taste.
Transfer it to a salad bowl (leave the dressing behind) and serve immediately.
How to Make It a Meal
If you are looking to make this salad more substantial and satisfying then you may could:
Transform it into a pescatarian delight with a tin of tuna/salmon or even slices of smoked salmon/trout.
Make it into carnivore heaven by adding some barbecued lamb fillets or rare roast beef slices; even some grilled or shredded chicken would be wonderful.
Add your favourite cooked grain such as quinoa, bulgur wheat, pearl barley or freekeh.
Make it cheesy by adding some grilled halloumi, fresh mozzarella, crumbled feta or shaved parmesan.
Boost the crunch by grilling up some sourdough or pita bread (even better if you smother it in butter and minced garlic before grilling).
Serving Suggestions 🍽
This spring mix salad is a wonderful all-around salad that pairs well with anything and everything. Great with roasts, grilled meant, tagines, pasta, stews - you name it!
But, to be perfectly honest, I prefer its delicate flavours with seafood or with pasta:
We served ours with a delicious mushroom polenta tart.
Common Questions and Tips
The sugar snap peas and snow peas can be prepared the day before and kept in an airtight container in your fridge (if you keep them in water, it adds to their crispness, and they will curl slightly).
Make up the dressing in a glass jar several days in advance so that it is ready to shake up and add to the salad just before serving. You may need to bring it to room temperature as sometimes the olive oil will go hard in the fridge.
The tomatoes and cucumbers can be cut an hour in advance, but you need to pat them dry.
Just before serving, add the spring mix salad greens, pour over the dressing, toss and serve!
How Can I Store the Leftovers?
It can be kept in an airtight container and eaten the next day even though the greens may have wilted.
Truth be told, I loved it even more the next day with a tin of tuna for my lunch (even though the greens were wilted).
The snow peas, sugar snap peas, cucumbers and tomatoes had absorbed the dressing and melded together beautifully - so zingy and full of flavour.
How Can I Meal Prep This Salad for Weekday Lunches?
This salad can become packable, and depending on how you like your salad, you can do it one of two ways.
For fresh, crisp flavour - make up the salad and portion it into containers; place the dressing in a separate container to pour over your salad and toss just before eating.
For marinated deliciousness - make up the salad without the spring mix, add the dressing, season and toss, then portion into containers; add the spring mix on top to stir through your salad just before eating.
I strongly suggest cutting your tomatoes with either a tomato knife or a serrated-edged knife; they slice through the tomatoes without squishing them.
For wafer-thin cucumber slices, you will need a v-slicer or mandoline slicer is just the thing.
Recipe Card
* Times are an estimate and will depend on your skill level
Equipment
Mandoline or V-Slicer

Tomato knife or serrated edged knife
Ingredients
4

cups

spring mix salad

(approximately 120 grams or 5.64 ounces)

1

small

punnet Mini Roma / Oval tomatoes

(approximately 200 grams or 2.19 ounces)

1

small

punnet yellow oval tomatoes

(approximately 200 grams or 3.2 ounces)

1

medium

Lebanese or Persian Cucumber

(approximately 120 grams or 2 ounces)

1

cup

snow peas

(approximately 150 grams or 3.5 ounces )

1

cup

sugar snap peas

(approximately 150 grams or 3.5 ounces )

¼

cup

mint leaves

⅓

cup

mixed seeds

(I used Pepitas, but you can try sunflower, linseeds, black & white sesame seeds)

¼

cup

olive oil

3

tbsps

red wine vinegar
Instructions
Wash and string your snow peas and sugar snap peas, pat dry and julienne.

Wash, dry and slice your yellow and red tomatoes in half.

Rinse your cucumber and slice thinly either using a sharp knife or mandoline/v-slicer.

Wash and dry your mint leaves.

Add all the vegetables, mint, seeds, olive oil and red wine vinegar to a large mixing bowl.

Season and toss your salad, taste and adjust seasonings.

Arrange in a salad bowl - Serve & Enjoy!
Nutrition information is calculated using an ingredient database and should be considered an estimate.
Calories:
140
kcal
|
Carbohydrates:
5
g
|
Protein:
3
g
|
Fat:
12
g
|
Saturated Fat:
2
g
|
Sodium:
28
mg
|
Potassium:
201
mg
|
Fiber:
1
g
|
Sugar:
2
g
|
Vitamin A:
761
IU
|
Vitamin C:
28
mg
|
Calcium:
25
mg
|
Iron:
2
mg