This white bean salad recipe has gotten me out of hot water plenty of times! It takes less than ten minutes to get it on your table, and it is full of fresh, herby, zingy flavour and crunch.
---
Are you having Murphy's law day - everything that can go wrong did!
Rush-hour traffic means you now need to get something on the table lickety-split
Your crisp and colourful salad ingredients are suddenly wilted and pale
Kids are running amuck and you're trying to resist the urge to order in pizza
This handy white bean salad recipe will get you out of hot water when you have been caught out with life's last-minute challenges it is quick and easy to throw together but oh so scrumptious.
In our speedy white bean salad, the creamy cannellini beans are a wonderful contrast to the crisp celery while the dill adds a nice aroma and the lemon poppyseed dressing adds a nice zing.
I need to add that this salad is perfect for entertaining large groups as it keeps so well, you can make it one or two days ahead, store it covered in your fridge and take it out on the day. In fact, it will taste even better as the flavours would have melded together beautifully.
Serving ideas
White beans pair well with lighter meats such as pork, chicken and even fish and I have served it with all of those.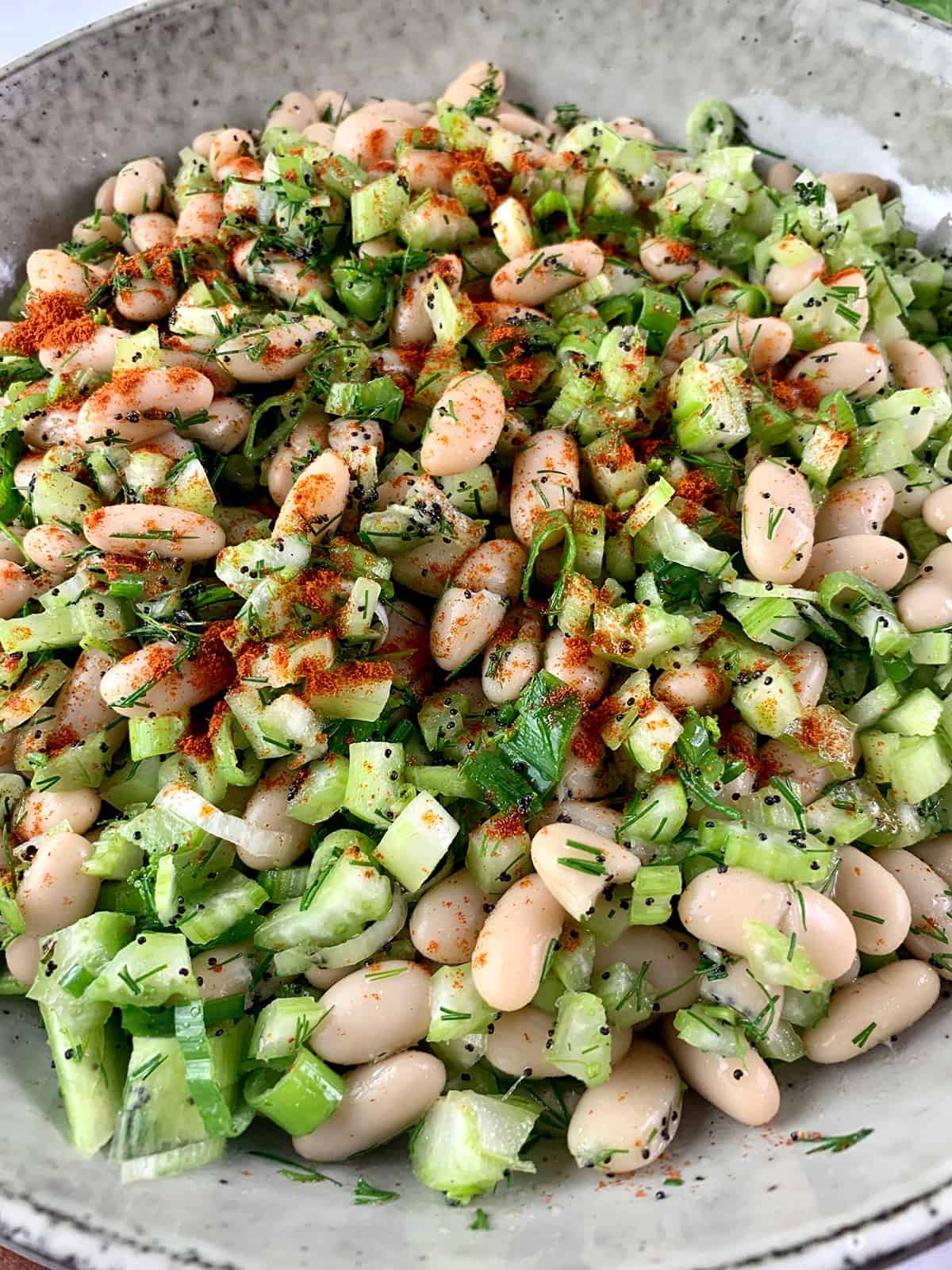 Dry Beans vs. Canned
There is no doubt about it canned beans are just so much more convenient. In a few minutes, you have opened your can, rinsed in your strainer and you are good to go.
And out of all the tinned varieties, the best to use are chickpeas and cannellini beans, both come pretty close to homemade versions and are ideal backups.
But, Dried beans are just so much tastier, with so many types to choose from and are so much cheaper than the tinned. Their biggest drawback is THEY JUST TAKE SO LONG TO COOK!!
Can I have the convenience of canned with the taste of dry?
You betcha!
All you have to do is cook a large batch of dry beans and store them in zip lock bags in your freezer, then take them out and defrost them when you need them.
Divide them into smaller portions for your recipes, 1 to 2 cups are great. Drain some of the cooking liquid, leaving enough to cover them.
Then pack them into your preferred container - zip lock or freezer bags or even freezer containers. Remember to leave some space on top to allow for expansion.
You can keep them in your freezer for 2 to 3 months. They are best thawed slowly to keep their shape, but I have also defrosted them under cold running water and they were ok too.

How to make white bean salad
1Prep your white beans and veg
Rinse your beans well under cold running water and strain well.
Wash your celery stalks carefully to remove any dirt that may be lodged. Cut off the white part of the celery, remove the leaves and discard.
Using a vegetable peeler, de-thread your celery (no need to do this if you don't have the time). Then chop finely into small dice or thinly slice in a food processor.
Trim your green onion and thinly slice. Wash your dill, shake to remove excess water, pat dry and chop finely.
2Make your dressing
You can put your dressing ingredients in a glass jar, season and shake until emulsified but I just throw everything in a bowl.
3Putting your salad together
Throw everything in a salad bowl, pour over the dressing, season with salt and pepper and toss to combine.
Arrange your salad in a bowl, sprinkle a dash of paprika on top for colour serve. It also keeps well chilled in your fridge for several hours or even the day before.
What about the leftovers?
This white bean salad keeps well in the fridge for several days, just cover it well so it doesn't absorb any other flavours.
Great the next day for lunch with a tin of tuna.
Mash the beans slightly, add some feta and tomato slices for a great topping for toasted sourdough or rye
Add some creamy avocado, tasty cheese and onion for tasty filling for a wrap.
Can I meal prep this white bean salad?
This salad is ideal to meal prep for your lunches or to pack and take to your next picnic or pot luck as it travels so well.
Just make it and portion it out into your containers, you can add any protein that takes your fancy, try some pulled pork, grilled chicken, crumbled feta or cubes of tasty cheese.
Some more bean salad recipes to try...
Recipe Card
This white bean salad recipe has gotten me out of hot water plenty of times! It takes less than ten minutes to get it on your table and it is full of fresh herby, zingy flavour and crunch.
Print Recipe
Pin Recipe
Rate this Recipe
* Times are an estimate and will depend on your skill level
Ingredients
For the salad…
2

tins

white / cannellini beans

(400 grams each)

400

grams

celery stalks

(approximately 4 medium, 2 cups diced)

2

green onions

(approximately 50 grams, ½ cup sliced)

¼

cup

dill leaves

(chopped finely)
For the vinaigrette…
⅓

cup

olive oil

¼

cup

lemon juice

1

tbsps

poppy seeds

1

garlic clove, minced

(optional)
Instructions
To make your salad...
Wash the cannellini beans in a colander and drain well, transfer to a large mixing bowl.

Wash your celery well, chop off the white bottom end and any damaged leaves then peel the strings either by hand or by using a y-peeler. Cut into a small dice then add to your bowl.

Trim your green onion and thinly slice. and thinly slice. Add to your bowl.

Wash the dill leaves, shake to remove excess water and pat dry the chop finely. Add to your bowl.
To make your vinaigrette...
Place all the dressing ingredients in a glass jar and shake until emulsified.
Putting it all together...
Pour your viniagrette over the incredients in your mixing bowl, season with salt and pepper, pour the dressing over the salad and toss until well combined. Taste the salad and adjust seasonings according to your taste.

Arrange in a salad platter, scatter with the paprika to garnish and serve.
Nutrition information is calculated using an ingredient database and should be considered an estimate.
Calories:
332
kcal
|
Carbohydrates:
31
g
|
Protein:
10
g
|
Fat:
20
g
|
Saturated Fat:
3
g
|
Sodium:
90
mg
|
Potassium:
875
mg
|
Fiber:
8
g
|
Sugar:
3
g
|
Vitamin A:
859
IU
|
Vitamin C:
13
mg
|
Calcium:
170
mg
|
Iron:
4
mg
---