Our Keto-Friendly Taco Seasoning is full of Mexican flavour minus the fillers used in pre-packed blends to add low carb, gluten-free spice to your meals. Are you ready for a healthy Taco Tuesday?
Taco Mix is a staple in many Mexican-inspired dishes. But it can be challenging to find a keto-friendly taco seasoning blend in the shops. So why not whip up our quick and easy mix and enjoy all your favourite Mexican dishes while sticking to your keto diet.
Are you looking for more healthy homemade spice blend recipes? Why not try our spicy Cajun blend or add some Mediterranean flavour with our Italian Herb blend - you are going to love them!
What are Mexican flavours?
Signature Mexican flavours used in Mexican cooking come from onion, garlic, tomatoes, beans, corn, fresh chillis (jalapeños) and cilantro/fresh coriander.
Classic Mexican spices are
Cumin with an earthy, toasty, slightly bitter taste
Mexican oregano with a more delicate flavour than Mediterranean oregano
Chipotle powder made by drying and smoking jalapeños chillis and then grinding them to a powder.
Epazote a lesser-known and used to calm any intestinal discomfort beans may cause. It has a strong, acidic flavour, almost like lemon.
How we Made Our Taco Season Low Carb 
Quite simply by skipping out on the fillers! As with most packaged ingredients, taco seasoning comes with added salt, sugars, starch, and preservatives to increase their shelf life.
That is the beauty of making your own homemade blends; you get to skip on all artificial stuff and use just fresh spices for a much more intense flavour profile.
Carbs in Taco Seasoning
Most supermarket Taco Mixes contain on average approximately 1.3 grams of net carbs; a good quality mix on average may contain 1 gram of net carbs per serve.
While not 100% carb-free as all spices contain a trace amount of carbs, the carb count is considerably lower than any taco blends you find in stores.
So what about our blend, you ask? The carb count in our taco seasoning is quite negligible, just 1g per serve AND, surprise, surprise, it contains ZERO net carbs, truly a no-carb taco seasoning blend, now any keto or low carb dieter has just got to be happy with that!
As an added bonus, our tasty blend is ideal for Whole30 and Paleo dieters as well for the same reasons - nothing artificial just herbs and spices.
You Will Need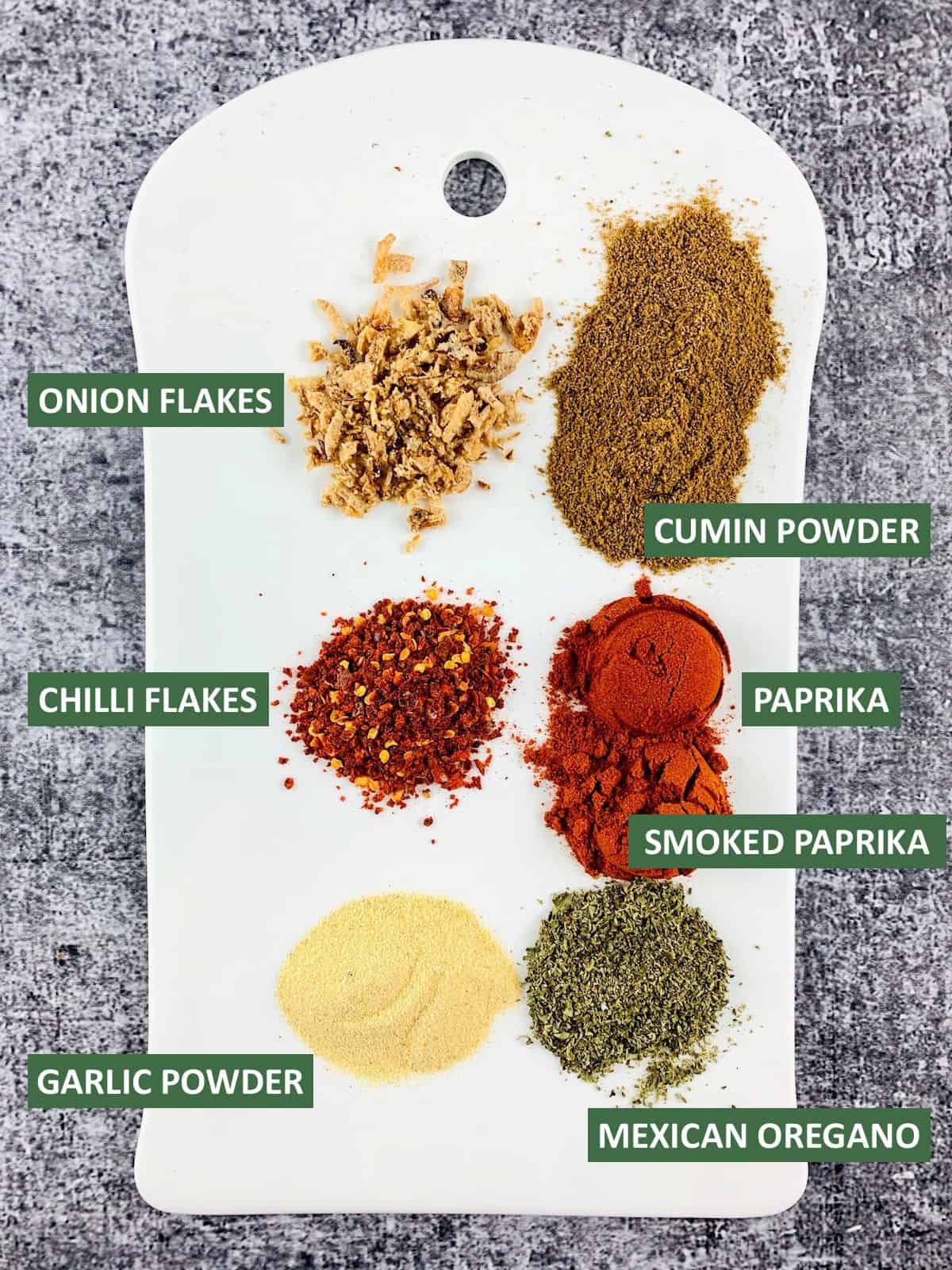 How to Make it 
Place all the spices, oregano, garlic powder and onion flakes in a bowl and stir until well combined.
This is a mild blend; to make it extra spicy, add a teaspoon or two of chipotle or cayenne powder.
Store in an air-tight container until ready to use.
How Much Should I Use for My Tacos?
That just depends on how spicy you like things. Usually, one taco seasoning pack contains six teaspoons of the spice and is used to season 450 grams or one pound of meat that serves six.
If you are going to use that formula, it equals one teaspoon per 75 grams (just under 3 ounces) of meat for each person. To be honest, I use much more than that in my tacos as I like things spicy, but that is up to you.
What can I use it on?
Use it in your tacos - of course!
As a rub for pulled pork, steaks or grilled chicken.
Try it in your quesadillas.
Use it to roast your veggies such as eggplant, carrots, green beans and brassicas.
Great on sautéed sturdy greens such as collard greens, kale, silverbeet and chard.
Use it to flavour your cooked beans.
Great in salsas and salad dressings.
As added flavour in your chillis, soups, stews and casseroles.
Common Questions (FAQs)
How much does it make?
Our blend makes a total of 30 teaspoons which is just under half a cup of seasoning or enough for 30 tacos! The nutritional information has been calculated per teaspoon.
How to store it
Your Keto-friendly taco seasoning should be stored in a tightly sealed glass container in a cool dark place in your pantry.
Dietary Information for Keto-Friendly Taco Seasoning
Not only is this super healthy and delicious Taco Seasoning, keto and low carb friendly, but it is also ideal to use for Whole30 and Paleo dieters as well.
It doesn't contain added sugars, starches, grains, dairy, and processed flavour-builders like MSG and sulphites. So you can consider it as a Paleo Taco Seasoning recipe as well as a Whole30 Taco Seasoning recipe - it just keeps getting better and better!
As mentioned before, each serve contains zero net carbs and 5kcals.
(Please note we use a nutritional database to calculate the nutritional information and should be considered as an estimate).
Why Not Try It in These Salads?
Recipe Card
* Times are an estimate and will depend on your skill level
Ingredients
2

tablespoons

Cumin Powder

1

tablespoon

paprika

1

tablespoon

smoked paprika

1

tablespoon

chilli flakes

1

tablespoon

garlic powder

1

tablespoon

onion flakes

1

tablespoon

dried Mexican oregano

(or half a tablespoon Mediterranean oregano)
Instructions
Place all the spices, oregano, garlic powder and onion flakes in a bowl and stir until well combined.

This is a mild blend, to make it extra spicy add a teaspoon or two of chipotle or cayenne powder.

Store in an air-tight container until ready to use.
Nutrition information is calculated using an ingredient database and should be considered an estimate.
Calories:
5
kcal
|
Carbohydrates:
1
g
|
Protein:
1
g
|
Fat:
1
g
|
Saturated Fat:
1
g
|
Sodium:
6
mg
|
Potassium:
31
mg
|
Fiber:
1
g
|
Sugar:
1
g
|
Vitamin A:
314
IU
|
Vitamin C:
1
mg
|
Calcium:
9
mg
|
Iron:
1
mg
Pin Me Now & Save for Later!