This Vegan Beet Salad is a show-stopper! With a combination of vacuum-packed beets, fennel, and rainbow chard, you're sure to impress with its beautiful presentation and delicious flavour. Who knew veggies could be so tasty? Let's dig in and see what this vegan salad has to offer!
For this Vegan Beetroot Salad, we have used easy-to-prepare vacuum-packed beets that are sweet and earthy.
The fennel adds a slight anise flavour and crunch, while the rainbow chard adds a beautiful bright colour and subtle bitterness.
Together, these vegetables combine to create a flavourful and beautiful salad that comes together in next to no time!
If you prefer a roasted beet salad, try our Beet and Cardamom Salad or if you are looking for simple flavours, try our Beetroot and Herb Salad.
JUMP TO
A Great Make-ahead Salad
This beetroot salad can be made at the start of the week and will still taste great, if not better, several days later.
This great packable salad is perfect to meal prep for weekday lunches. It travels well, so it would be perfect for taking to picnics and potlucks.
Ingredients and Substitutions
Beets - we have used vacuum-packed beets here, which means this salad is ready quickly. But you can use fresh beets that have been roasted or boiled. Avoid canned beets as they taste completely different - they are briny and full of sodium.
Rainbow Chard - used for added bulk and colour; swap any sturdy leafy grains such as rocket/arugula, baby spinach or kale.
Fennel - added for its wonderful licorice-like flavour; to mimic the flavour, try using a teaspoon of either fennel, carraway or anise seeds.
The Dressing - we have used a simple olive oil and apple cider vinegar dressing. As an alternative, you can try our sweet balsamic vinaigrette, or for something tangy, our lemon garlic vinaigrette would be great.
Variations
Beans - consider adding some beans; just keep in mind the lighter-coloured beans will be tinged pink from the beetroot. Try black beans, red beans, or even some edamame would be great.
Grains - make this salad go further by adding a cooked grain such as quinoa, farro or brown rice.
Herbs & Citrus - use any kind of soft herbs that take your fancy, such as dill with lemon, fennel with orange, tarragon with orange/lemon, and mint with lemon.
Feta - add some crumbled feta or goat's cheese; it pairs beautifully with beets.
Nuts - to add some crunch to your salad, add some roasted nuts such as walnuts, pecans, almonds or hazelnuts.
You Will Need
Putting Your Salad Together
Wash the chard thoroughly under cold running water to remove any dirt and grit, discard any damaged leaves and pat them dry.
Trim the rough ends of the chard stems, then cut the stems away from the leaves.
Finely cut the stems, then stack the leaves on top of each other, rolling into a cigar shape and finely shredding them with a sharp knife (also known as a chiffonade).
CUT STEMS FROM LEAVES
TRIM THE STALK ENDS
FINELY CUT THE CHARD STALKS
STACK THE CHARD LEAVES
ROLL CHARD INTO A CIGAR SHAPE
FINELY SHRED THE CHARD LEAVES
Step 2 - Prepare the Beets and Fennel.
Lay a piece of baking paper on your chopping board to prevent the beets from discolouring the board, then cut them into small dice.
If you are using fresh beets, you will find details on how to roast them in our Roasted Beet Salad post.
Wash and trim the fennel, removing the hard fennel core, then cutting the bulb into small dice and roughly chopping the fennel fronds.
DICE BEETS ON A LINED BOARD
REMOVE THE FENNEL COR
DICE THE FENNEL
Step 3 - Assemble the Salad.
Toss everything into a large mixing bowl, adding the minced garlic, olive oil and vinegar, and season with sea salt and cracked black pepper.
Give everything a good mix to combine the flavours.
When you're ready, arrange the salad on a salad platter and serve.
You'll find that the flavour of this salad really benefits if you let it stand for at least fifteen minutes before serving - it'll help the chard to soften and the flavours to really develop. Enjoy!
PLACE INGREDIENTS IN A BOWL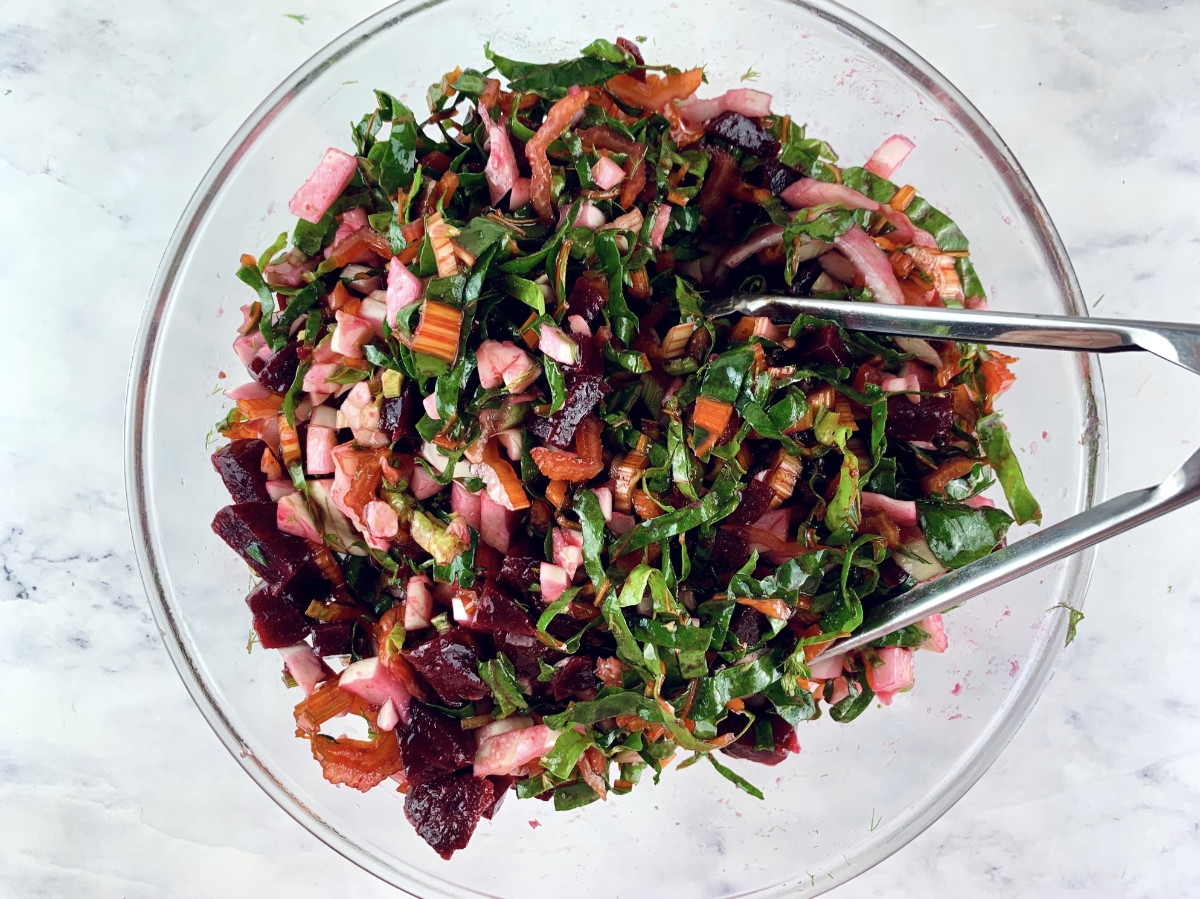 POUR OVER DRESSING
ARRANGE ON A SALAD PLATTER - SERVE & ENJOY!
🍽 Serving Suggestions
This tasty fresh salad travels well and is great for picnics, potlucks and barbecues.
It's the perfect accompaniment to grilled meat and veggies and adds a delicious twist to fish and seafood dishes like a whole baked snapper.
For a complete meal, pair it with grilled chicken, fish, tofu or a variety of grains such as quinoa, rice, or farro.
Vegans can enjoy it with crispy tofu, spring onion bhajis or a vegan nut loaf, and carnivores can enjoy it with barbecued ribs, a perfectly cooked steak or some Indian chilli chicken.
People Also Ask
Can I use canned beets instead?
Steer clear of canned or tinned beets; they have a briny taste and are full of sodium. 
Are vacuum-packed beets healthy?
They are more convenient than cooking fresh and much healthier than canned beets, which tend to be high in sodium.
When vacuum packed, the beets are either washed, peeled, packed and steamed or steamed in their own juices and packed to seal in flavour and nutrients.
Once opened, they should be kept in an airtight container in the fridge and used within three days - so easy and healthy!
Dietary Information
This delicious salad is suitable for most diets - Dairy Free, Nut Free, Vegan, Vegetarian, Paleo, Whole30.
Each serving contains 198 calories with a net carb count of 18 grams.
(We used a nutritional database to make our calculations, so these should be considered an estimate only).
Recipe Card
* Times are an estimate and will depend on your skill level
Ingredients
450

grams

red chard

approximately 1 small bunch 16 ounces

500

grams

cooked beetroot

approximately 1 pack 18 ounces

1

large

large fennel bulb

approximately 400 grams /14 ounces

⅓

cup

extra virgin olive oil

¼

cup

apple cider vinegar

1

clove

garlic, minced

Sea salt and cracked black pepper
Instructions
Thoroughly wash the chard under cold running water to remove any dirt and grit, discard any damaged leaves, and then pat dry.

Trim the rough ends of the chard stems and cut the stems from the leaves, finely cut the stems

Stack the leaves on top of each other, roll them into a cigar shape and finely shred them with a sharp knife (referred to as chiffonade).

Cut your beets into a small dice, wash and trim your fennel, remove the hard core and cut the bulb into a small dice and roughly chop the fennel fronds.

Place everything in a large mixing bowl, add the minced garlic, oil and vinegar, season with sea salt and cracked black pepper then toss well to combine.

Arrange in a salad bowl and serve when ready. For an even tastier salad, let it stand for at least fifteen minutes before serving as it allows the chard to soften and for the flavours to develop - yum!
Nutrition information is calculated using an ingredient database and should be considered an estimate.
Calories:
198
kcal
|
Carbohydrates:
22
g
|
Protein:
3
g
|
Fat:
12
g
|
Saturated Fat:
2
g
|
Polyunsaturated Fat:
1
g
|
Monounsaturated Fat:
9
g
|
Sodium:
319
mg
|
Potassium:
665
mg
|
Fiber:
4
g
|
Sugar:
13
g
|
Vitamin A:
4717
IU
|
Vitamin C:
33
mg
|
Calcium:
82
mg
|
Iron:
2
mg
---