Lebanese Tabbouleh is an incredibly delicious and popular side of the Middle East. This popular salad is often served as part of a mezze plate, but it's also great as a side dish. Whether you're looking to spice up your summer BBQ or just want to add something healthy to your menu, tabbouleh is the perfect dish to try.
Ah, tabbouleh or tabouli is one of the most beloved dishes of the Levant. A refreshing, light and flavorful combination of finely chopped herbs and bulgur wheat, it's a staple of Lebanese cuisine that's become popular all around the world.
If you are looking for a low-carb, gluten-free, paleo or whole30 alternative, then our Cauliflower Tabbouleh is ideal.
For more Lebanese salads, try our Lebanese Sumac salad, our healthy Kale Fatoush salad or our Herb Tabbouleh salad.
In This Lebanese Tabbouleh Post:
What is Tabbouleh?
Traditional Lebanese Tabbouleh is a shining example of how simple ingredients can make for a complex and delicious dish. It is a lemony herb salad with some bulgur and not a bulgur salad with a few herbs thrown in - the parsley is the star of the show here!
That being said, no two tabbouleh recipes are the same. Some variations add cucumber, red onion or an array of spices, like cumin and sumac, which will give the dish an extra depth of flavour.
---
Ingredients & Substitutions
Parsley - we use a LOT of flat-leaf parsley because of its robust flavour; you may also use curly parsley.
Mint - we love the wonderful fresh aroma mint adds to the salad; if you don't have any, just add some more chopped parsley.
Green onion - the girls don't like onions, unfortunately, so we only add two, but you can also use 4-5. You may also swap for some white, yellow or red onion for a pop of colour.
Tomatoes - we use firm vine-ripened or Roma tomatoes because of their wonderful aroma. It is hard to dice up overly ripe tomatoes. Firm regular tomatoes are also good.
Bulgur- make sure you use fine bulgur and not the coarse bulgur, as the focus should be on the fresh herbs and not the bulgur. For a gluten-free version, you can substitute the bulgur for some quinoa.
The dressing - we use good quality extra virgin olive oil and freshly squeezed lemon juice; avoid the bottled ones.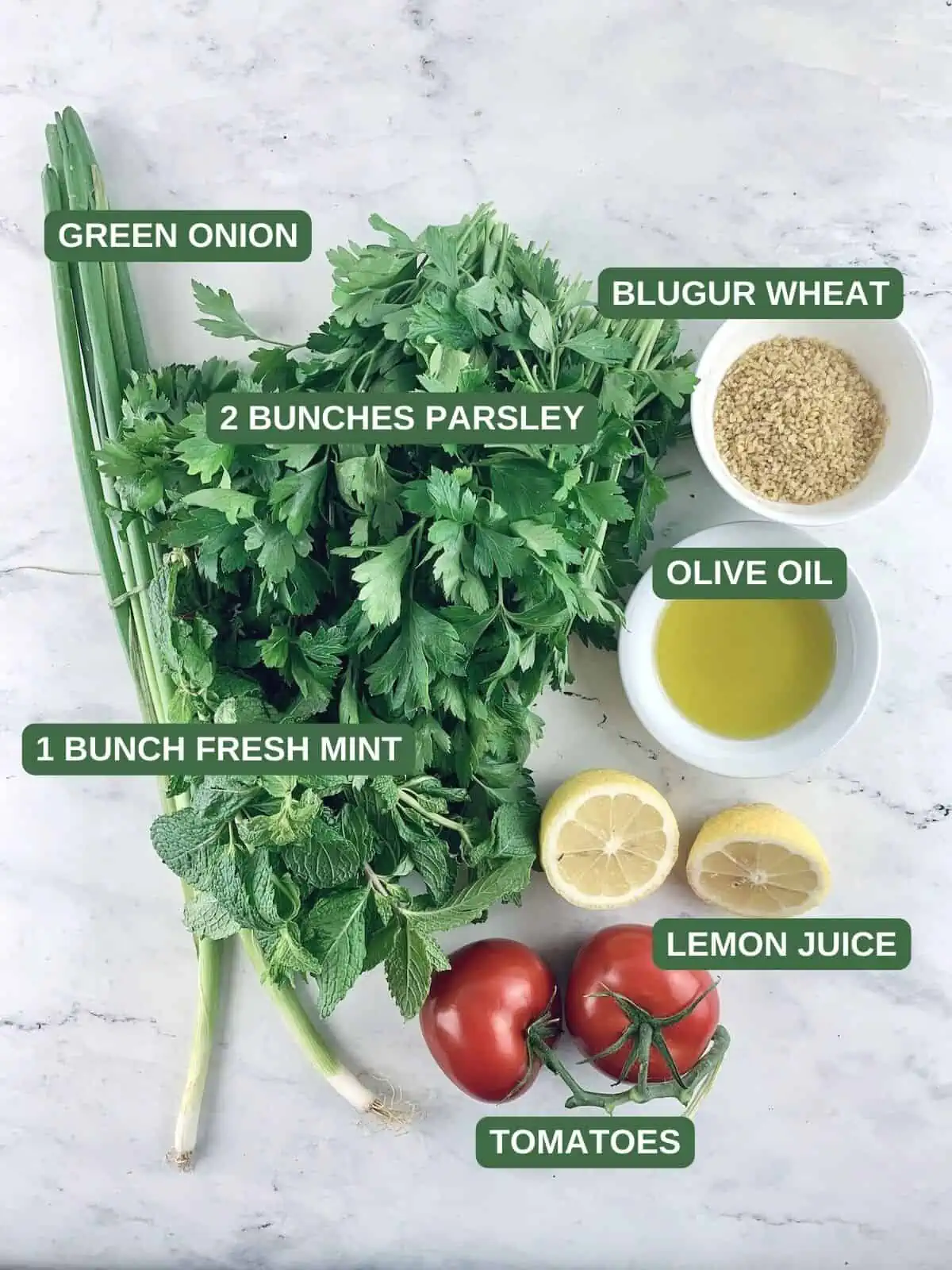 ---
How To Make It
Are you ready to make the best tabbouleh recipe? Let's get started!
Step 1 - Prepare the Bulgur
First, place a quarter of a cup of bulgur in a bowl and season with some sea salt and cracked black pepper.
Add half a cup of boiling water; it's important to get the ratio right so that it doesn't become soggy. Then cover it with a plate and let it stand for ten minutes. 
While the bulgur is soaking, let's start prepping the other ingredients.
Step 2 - Prepare the Greens and Tomatoes
Get a large mixing bowl out so you can add all the ingredients to it as you prepare them. 
Wash all the herbs and green onions and dry them; you can use a salad spinner if you like. 
Cut off the parsley stems and finely chop the leaves with a sharp knife, or you can use your food processor to chop the parsley, but don't over-pulse as you risk turning it to mush.
Make sure the mint is thoroughly dry, as it discolours easily. Strip the leaves from the stems and tear any large leaves in half. 
Note: You can keep the parsley and mint stems and either freeze them to add to stocks and soups for later or blitz them into parsley oil, pesto, or sauce now. 
Trim the green onions, and slice them thinly. 
Wash and trim the tomatoes, and dice them with a serrated knife so that you don't squish them. Keep the juices and add them with the tomatoes to your bowl.
Step 3 - Assemble Your Tabbouleh Salad
Now, fluff the prepared bulgur with a fork.
Add the bulgur to the bowl prepared ingreedients along with the lemon juice and olive oil. Season with salt and pepper, then mix the salad well to combine. 
Serve and Enjoy!
---
🍽 Serving Suggestions
Authentic Lebanese Tabbouleh salad is served with romaine lettuce leaves and is often part of a mezze plate, accompanied by hummus, babaghanoush, and other small dishes.
It also makes for a wonderful side dish for grilled meats, poultry or seafood or as part of a light summer salad.
A great salad to make for your next barbecue as its flavours complement charred meats beautifully. Try it with some lamb koftas or with some chicken shawarma.
Also, a great salad to make for a packed lunch with the addition of a protein such as grilled chicken breast or tinned tuna flakes.
Tips and Questions
Bulgur is a cracked wheat that has been partially boiled and then dried; it tastes nutty and is chewy.
Yes, it's packed with superfoods! With no cholesterol, low fat and high in fibre, vitamins, protein, iron, and calcium from the bulgur, plus antioxidants and vitamins from fresh herbs and tomatoes.
Yes, you can make tabbouleh the day before and keep it in the fridge! Plus, if you make it ahead, you don't have to worry about soaking the wheat - the juices in the salad will do the trick and plump it up.
Just pop any leftover salad in an airtight container in the fridge, and it will keep for approximately 5-6 days.
Our Lebanese tabbouleh recipe is full of healthy ingredients and is low in calories; each serving contains 160 calories and has a net carb count of 8 grams.
It is suitable for dairy-free, vegan and vegetarian diets. Swap the cracked wheat with quinoa to make it gluten-free or with some riced cauliflower to make it keto, low-carb, paleo and whole30 diet-friendly.
Recipe Card
Lebanese Tabbouleh salad is an incredibly delicious and popular side of the Middle East. Often served as part of a mezze plate, and also great as a side.
Print Recipe
Pin Recipe
Rate this Recipe
* Times are an estimate and will depend on your skill level
Ingredients
¼

cup

bulgur wheat

(quinoa for gluten free)

2

bunches parsley

(3 cups chopped, approximately 220 grams, 7.8 ounces)

1

bunch mint

(1 cup tightly packed leaves, approximately 50 grams, 1.8 ounces)

2

green onions

(½ cup, approximately 50 grams, 1.8 ounces)

2

vine ripened tomatoes or Roma tomatoes

(2 cups diced, approximately 350 grams, 12.4 ounces)

⅓

cup

olive oil

¼

cup

lemon juice

Sea salt and cracked black pepper
Instructions
Place ¼ cup bulgur wheat in half cup boiling water, season let stand for at least ten minutes

Wash the green onions, trim, and slice thinly

Wash the parsley, either pat or spin dry, cut off the stems*, chop finely

Wash the mint, dry thoroughly and strip the mint leaves from the stems, tear the large ones in half.

Wash, trim the tomatoes and dice with a serrated knife so that you don't squish them. Keep the juices to add to the salad.

Add all the prepared ingredients in a large mixing bowl, fluff the bulgur wheat and add with the lemon juice and water. Season and mix well.
Notes
This salad can easily be made keto, paleo and whole30 friendly by swapping the bulgur for some riced cauliflower. Or why not try our Cauliflower Tabbouleh instead? 
*You can keep the parsley and mint stems and either freeze them to add to stocks and soups for later or blitz them into parsley oil, pesto, or sauce now.
Nutrition information is calculated using an ingredient database and should be considered an estimate.
Calories:
160
kcal
|
Carbohydrates:
12
g
|
Protein:
3
g
|
Fat:
13
g
|
Saturated Fat:
2
g
|
Polyunsaturated Fat:
1
g
|
Monounsaturated Fat:
9
g
|
Sodium:
29
mg
|
Potassium:
446
mg
|
Fiber:
4
g
|
Sugar:
2
g
|
Vitamin A:
4013
IU
|
Vitamin C:
65
mg
|
Calcium:
85
mg
|
Iron:
3
mg