Looking for a luxurious salad to serve at your next dinner party or for an elegant lunch? Our Smoked Salmon Avocado Salad is exactly what you need to WOW your guests, sumptuous slices of smoked salmon, avocado and dill are drizzled with a dreamy buttermilk dressing for an unforgettable flavour combination.
Smoked salmon avocado salad is my go-to platter for dinner parties! It is a grazing salad that can be made in advance (without the dressing) and kept in the fridge until guests arrive.
I love serving it on my buffet table with small plates and the dressing on the side for people to help themselves to while I get on with the serious business of getting dinner together!
JUMP TO
Ingredients and Substitutions
Baby cos/romaine lettuce - is used as a base but can be replaced with baby gem lettuce or any soft lettuce such as butter, Boston or Bibb.
Cukes - are sweet, crisp and tender, but you can replace them with two small Lebanese or Persian cucumbers, or even English cucumbers are good.
Avocado - is added because of its gorgeous creaminess, and it partners beautifully with smoked salmon. Try any variety that is in season, we have used two small avocados, but you can use one large one instead.
Shallot - we have used a small French eschalot which has a mellow sweetness to it, unlike ordinary onions. You can swap with thinly sliced green onions or chopped chives instead.
Dill makes a wonderful partner to seafood but feel free to replace it with fresh mint or tarragon, or fennel leaf.
Buttermilk dressing - let me just pause here and just say how creamy, tangy and delicious; this dressing is with the smoked salmon - yum, yum, yum! As a non-dairy alternative, you could try an easy lemon vinaigrette, or our Dijon vinaigrette would also go well here. Too busy to fuss with all that, then a store-bought green goddess or buttermilk dressing would also work.
Consider adding - some baby capers or cornichons or some crunchy croutons or for a pop of colourful slices of tomatoes.
How to Make It 
Step 1 - Whisk the Dressing
We start with the dressing; place all the buttermilk dressing ingredients in a small bowl and whisk them together with a small whisk or with a fork.
You want to break down the cream cheese for a smooth consistency without any lumpy cheesy bits.
Step 2- Prepare the Ingredients
Cut the core from the baby cos lettuce, then gently separate the leaves, and discard any bruised, wilted or brown leaves. 
Wash the leaves in a strainer under gently running cold water; we don't want to damage these babies with a cold water blast!
Then either pat or spin the leaves dry in a salad spinner so that they are completely dry.
📝 RECIPE NOTE: It is essential that we use completely dry the lettuce for this salad. We are using it as a base for other wet ingredients, such as the salmon, and if you skip this step, you risk having wet and slimy lettuce leaves - yuk! 
So strain your leaves well and pat them bone dry; if you have a salad spinner whisk it out and spin the leaves dry a few at a time. It is well and truly worth that little bit of extra effort.
Rinse those adorable little cukes and trim their ends.
Then with a peeler (y-peelers are the best), peel them into ribbons.
💡TIP - if you peel one end, then turn the peeled end down on your chopping board, your cukes won't go sliding all over the place while you peel the rest into ribbons!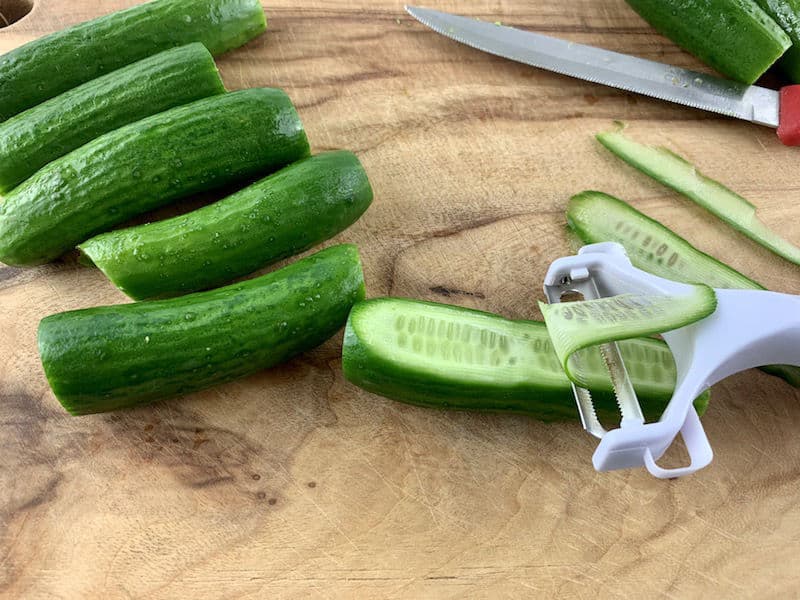 Gently tear the smoked salmon into bite-sized pieces.
Wash and trim the shallot, and slice it into paper-thin rounds (I used my mandoline for this).
Wash and trim your dill, shake out the excess water, pat it dry and then finely chop up two tablespoons.
Rinse the avocado, remove the pit, peel and thinly slice lengthwise, and add some lemon juice to prevent it from browning.
Step 3 - Assemble Your Salmon Avocado Salad
Arrange the lettuce leaves on a large salad platter, with the cores facing towards the middle and the soft leaves on the edge.
Place your adorable little cuke curls on top of the lettuce. Don't worry about the slightly thicker bits; use those as well; they are still small enough to look good. Make it look pretty, don't just chuck them on.
Then arrange the smoked salmon on top of the avocado.
Carefully place the avocado on top of the cucumber ribbons.
Arrange the thinly sliced shallots on top of the avocado.
Season with sea salt and cracked black pepper, give the dressing a good stir, then drizzle it on top of the salad.
Scatter the chopped dill on top to garnish.
Keep chilled until you are ready to serve, alternatively scatter the dill on top garnish, and pour the dressing into a serving jug to serve on the side of your salad for your guests to help themselves.
What Salmon Should I Use?
Smoked Salmon, Gravlax, Lox - are you confused with what's what? I know I was! Well, let's just break it down and then you can decide on what you like most for this salad, just click on the tabs for details.
Gravlax is not smoked but cured with fillets taken from the belly of the Salmon. Not a lot of salt is used in the cure or brine, and a combination of dill, alcohol (vodka or gin), lemon and other aromatics (juniper berries, horseradish) are added. These are usually weighted down to help the cure be absorbed by the flesh of the fish.
Lox is similar to Gravlax in that it is also not smoked but cured; it is also from fillets taken from the belly of the Salmon. A simple salt cure is used with no aromatics added, but as the belly fillets are soo much more succulent and aromatic (it smells fishy fresh), it has a more luxurious flavour.
Smoked Salmon is raw Salmon that has been cured in salt and sugar (the sugar helps with salt absorption) for several days; this draws out the moisture. It is then cold-smoked at low temperatures for ten to fifteen hours. This doesn't cook the Salmon at all but gives it a raw-like texture. Also, the fillets can be taken from any part of the fish, which is why it has a more subtle flavour.
Which one should you choose for your salmon avocado salad?
For a luxurious rich-tasting salad, go for the Lox;
for an aromatic, lush-tasting salad, choose the Gravlax;
for subtle (and much more affordable) flavour, choose a cold-smoked Salmon.
Are you confused about the hot-smoked and cold-smoked difference? Check out the Tips & Questions section of our Smoked Trout & Fennel Salad post 😉.
Tips and Questions
Prepare the ingredients so that they are ready to be assembled no more than an hour before you plan on serving your Salmon Avocado Salad: 

Separate the lettuce leaves, wash them and then dry them completely;
Rinse and trim the cukes and peel them into ribbons;
Wash and trim and thinly slice the shallots into rings;
Tear up the smoked salmon into bite-sized pieces;
Whisk up the dressing and store it in a sealed glass container in the fridge. 

Place all the prepared veggies in an airtight container and separate them with paper towels and store them in the fridge.
Keep the salmon in a separate covered container, and place it in a cold part of your fridge.
On serving day, take the buttermilk dressing out of the fridge, allow it to mellow for a minute or two, and then give it a good whisk. Slice the avocado and chop the dill. Follow the steps above to assemble the salad.
How Far in Advance Can It Be Made?
Smoked Salmon Avocado Salad can be made no more than an hour in advance, provided that your leaves are dried, and you put lots of lemon on the avocado to prevent it from going brown.
It is best stored in an airtight container in a cold part of your fridge; it should be good a day or two after serving.
What Can I Do With the Leftovers?
Any leftover salad (you wish) will be fine the next day; I love it on top of toasted rye or as a filling for crepes.
Other Seafood Salads to Try...
Recipe Card
* Times are an estimate and will depend on your skill level
Ingredients
For the salad…
1

small baby cos lettuce

approximately 30 grams, 1 ounce

1

punnet cukes

baby cucumbers (approximately 250 grams, 8.82 ounces)

250

grams

smoked salmon

approximately 8.82 ounces

2

small avocados

approximately 300 grams, 11 ounces

1

eschallot

French shallot

2

tablespoons

dill

chopped
For the buttermilk dressing*…
½

cup

buttermilk

¼

cup

spreadable cream cheese

2

tablespoons

lemon juice

3

tablespoons

oil

1

tablespoon

chives

1

tablespoon

lemon zest

1

tablespoon

Dijon mustard

Sea salt and cracked black pepper
Instructions
Wash baby cos lettuce trim and remove any damaged leaves. Then either pat dry or spin dry in a salad spinner for extra dry leaves.

Arrange on a salad platter.

Wash and trim cukes or cucumbers then with peeler slice into ribbons.

Arrange on top of the lettuce.

Gently tear smoked salmon into bite size pieces and arrange on top of the cucumber ribbons.

Wash avocado, remove the pit and peel and slice then arrange on top of the smoked salmon.

Wash and trim shallot, thinly slice and arrange on top of the avocado.

Wash and trim dill, shake dry and then roughly chop 2 tablespoons.

Season with sea salt and cracked black pepper, drizzle the buttermilk dressing on top, scatter the chopped dill on top to garnish.

Keep chilled until ready to serve.
Notes
*This will make one cup of buttermilk dressing, and you will only need a third of a cup for this salad. We have calculated the nutritional information for a third of a cup. 
You can use the leftover dressing as an alternative dressing on our Kipfler Potato Salad or in our Canned Salmon Salad.
Nutrition information is calculated using an ingredient database and should be considered an estimate.
Calories:
221
kcal
|
Carbohydrates:
11
g
|
Protein:
14
g
|
Fat:
14
g
|
Saturated Fat:
3
g
|
Cholesterol:
17
mg
|
Sodium:
519
mg
|
Potassium:
631
mg
|
Fiber:
6
g
|
Sugar:
3
g
|
Vitamin A:
931
IU
|
Vitamin C:
10
mg
|
Calcium:
49
mg
|
Iron:
1
mg