What is a salad spinner - your guarantee for the tastiest salad you can make! It drys your leaves so your salad is just sooo much tastier and not limp and soggy.
---
Why use a salad spinner?
We all agree that there is nothing worse than waterlogged salad greens that can quickly turn limp and slimy. So we all spend time trying to dry our leaves with paper or kitchen towels after we have finished washing them. Time-consuming right?
The answer is to use a salad spinner, they are indispensable in your kitchen for the preparation of different lettuce varieties, salad leaves and herbs. They get rid of the excess water content and allow the dressing to adhere to the leaves for a much tastier salad.
My salad spinner is one of the most used tools in my kitchen but it was a matter of trial and error before I found one that I loved.
How do Salad spinners work?
Salad spinners work through a simple mechanism of centrifugal force (or spin force in very basic terms), that dry your greens quickly and easily allowing your delicious dressings to stick to your greens without diluting them with the excess water from the leaves.
Types of salad spinners
There are four main designs used to drive the mechanism that spins and causes the inside strainer to rotate rapidly and therefore give you dry salad leaves.
Crank handle - the original design and works by your turning a handle or crank
Push pump - operated by pushing down on a pump
Pull chord - operated by pulling a chord
Electric - electrically driven and used in commercial kitchens as they can be quite pricey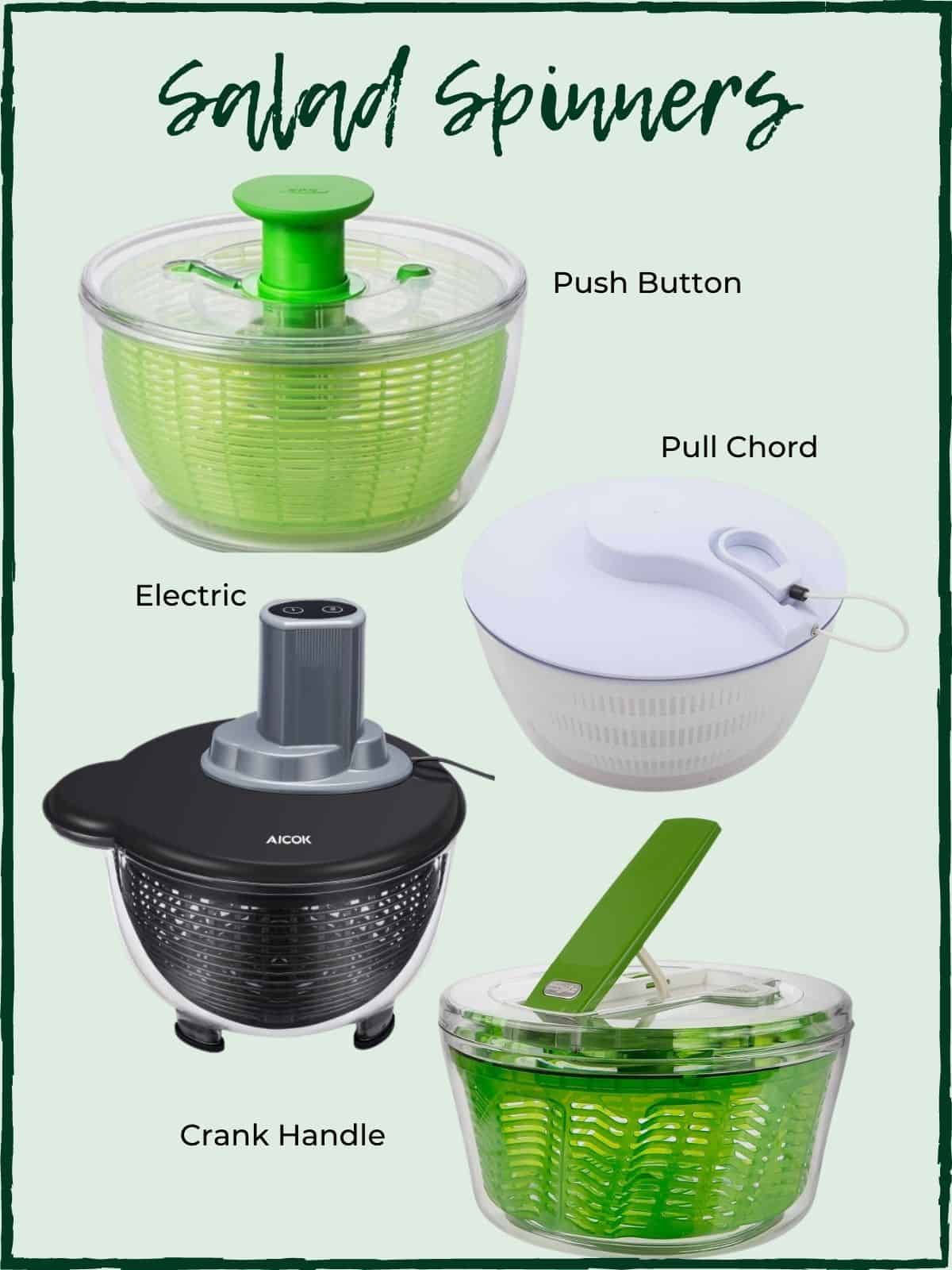 Some pitfalls to Look out for
But not all salad spinners are created equal, common pitfalls are:
They don't dry your salad greens enough because they don't spin fast enough.
Others will leave your salad greens bruised and damaged as they spin too fast
Some are small and don't fit enough greens for one salad forcing you to go through the process several times to make a salad.
Some are hard to hold onto and will go flying across the kitchen salad leaves and all ??‍♀️.
Some are just flimsy and poorly made and will break after a few salads.
My favourite Salad spinner?
Is the OXO brand of salad spinners that are available in a large stainless steel version or a plastic version, they are just so easy to use and your leaves come out super dry!
You can purchase your OXO Salad Spinner from any major kitchen supply shop or use our affiliate link. These links don't cost you anything, but they allow us to continue running this site and providing free content for our readers.