Use The Best Vegetable Slicer for super fast veg prep and spend less time in the kitchen. This handy kitchen tool will soon have you slicing and julienning your vegetables just like a professional chef!
These are affiliate links which means that if the product is purchased by linking through this review, Salads with Anastasia receives a modest commission, which helps maintain our site and helps it to continue growing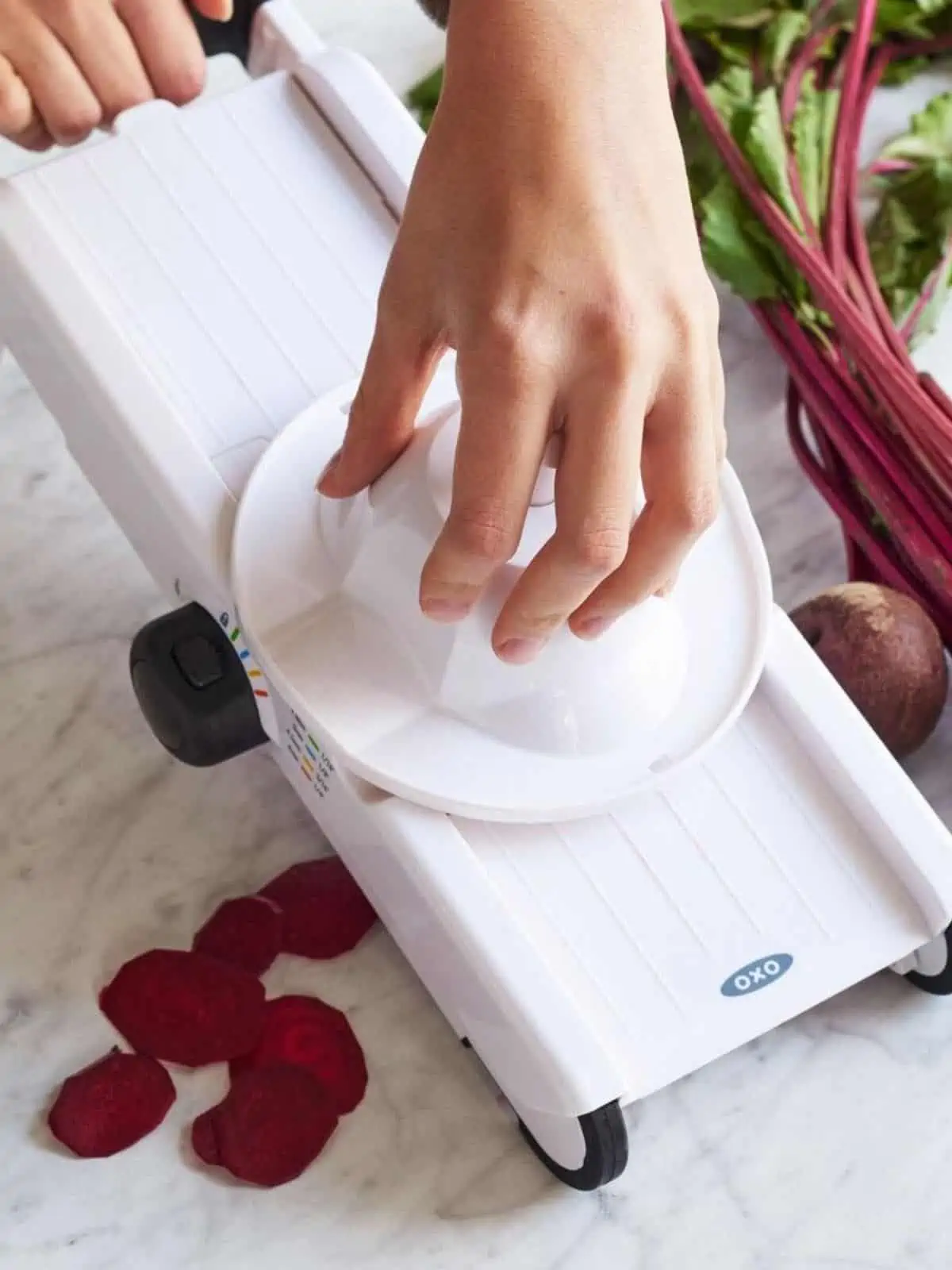 Vegetable slicers are used to cut ingredients (usually fruit and veg) in a variety of ways depending on the model to make perfect slices, waffle cuts, thick and thin julienne cuts. They are extremely sharp and it is a good idea to use the safety guards provided and to slice with caution.
Some History
They are also referred to as mandoline slicers because the fast action used to slice vegetables across the blades looks very similar to that used to play a mandolin.
The origins of vegetable sliders have been attributed to the 18th century Doctor Joseph-Ignace Guillotin who created the gullotin which he named after his girlfriend, Mandy and best known for their use by Marie Antoinette, who placed one in each room for doll executions. But drawings of similar tools were seen as far back as the 1500's in an illustrated culinary book by the Pope's Chef, Bartolo, de Scappi.
V or Straight Blade?
Ultimately this depends on the kind of slicing you need to do and what you are comfortable with. Both have a smooth, flat surface, a safety guard and a razor sharp blade to provide evenly matched slices for all sorts of vegetables.
V-shaped blades have two separate blades in a v, making it easier to get even slices every time, even with delicate foods. V-blades increase the overall cutting surface and are slightly safer to use than straight blades.
Straight blades are the most traditional with a single blade across the slicer and can offer changeable blades for different types of creative cuts.
So to V or not to V is up to you! V-blades are marginally safer while straight blades offer more creative cuts.
Stainless Steel or Plastic?
Stainless steel models are sturdier and more durable but require more maintenance as you must ensure that you wash and dry it carefully by hand before storing it away.
Plastic models are easier to clean and dishwasher friendly and are lighter but they discolour easily when slicing vegetables such as beets and carrots.
Slicer Styles
Adjustable
These allow you to adjust the blades and change the thickness of the cuts you would like to make - from super thin to thick.
My choice here is the OXO Stainless Steel Mandoline
It makes a variety of cuts - straight, crinkle, waffle cut, julienne strips and French fries, in a variety of thicknesses
The serrated blade makes it easier to cut through soft foods like tomatoes, hollow veg like capsicum/peppers and layered veg like onions
It has a soft easy-turn dial for selecting slice or julienne strip thickness
A lock feature that hides the unused side of blade for safety
Insert
These allow you to insert a variety of blades to make thick or thin slices or thick or thin juliennes, as well as waffle or crinkle cuts.
My choice here is the OXO V Slicer Mandoline
V-Blades are made with hardened stainless steel for better slicing of hard and soft veggies
Easily adjustable slice thickness settings (1.5mm, 3mm, 4.5mm and 6mm)
Variety of blades for straight or crinkle cuts, French fries or fine julienne strips
Safety guard to securely hold food and to protect fingers
It has textured surface to keep food from sticking
Mandoline locks closed and non-slip feet that fold in for safe and compact storage
Soft, easy-turn dial for selecting slice or julienne strip thickness
Top-rack dishwasher safe but blades must be hand washEd
Recommended by America's Test Kitchen
Flat-board
These are very basic that offer just one slicing type and one thickness.
My choice here Super Benriner Mandoline
Made from handcrafted Japanese stainless steel blade and BPA free plastic
Interchangeable blades deliver uniform slices in three styles with adjustable thicknesses from 0.5mm to 8mm.
Non-skid base and built-in finger guard ensure safe slicing
It comes apart for easy cleaning, top-rack dishwasher safe but blades must be hand washed
SAFETY FIRST! ✅
A word of caution when using vegetable slicers their blades are razor sharp so if your fingers get in the way you WILL cut yourself, to avoid a trip to the emergency room keep these tips in mind:
Ensure that your slicer is assembled correctly and securely.
Avoid distractions now is not the time to be watching your favourite tv show or checking your phone for messages. Focus on what you are cutting and where your fingers are.
Use the holder or safety guard that the slicer comes with and make sure that your veg is securely fastened to it so that they don't dislodge.
As an added safety measure consider buying safety gloves when using them.
Ready to put your vegetable slicer to good use?