Mother's Day Salad inspiration to serve Mum on her special day, delicious salads ranging from quick and easy to gourmet. No matter the season keep Mum happy with our mouthwatering salad recipes.
---
SPRING OR SUMMER MOTHER'S DAY SALADS
PEACH SALAD WITH ROCKET & MOZZARELLA
Lush peaches marinated in verjuice and nutmeg are a taste sensation in this salad combined with creamy mozzarella and peppery rocket - just ideal for entertaining Mum.
READY IN 25 MINS - SERVE IT WITH MUSTARD PORK CHOPS OR EASY ROAST DUCK
KALE AND CRANBERRY SALAD WITH ASPARAGUS & CAMEMBERT
This oh-so scrumptious kale and cranberry salad is dressed with our creamy hazelnut dressing and has cranberries and sautéed asparagus scattered throughout with rich, buttery Camembert on top. An elegant salad ideal for to serve Mum.
READY IN 25 MINS - SERVE IT WITH HERB CRUSTED CHICKEN OR STUFFED PORCHETTA
BASIL AND TOMATO WITH BLUEBERRY BASIL DRESSING
A tasty tomato and basil salad topped with sweet blueberries and mouthwatering blueberry basil dressing to create an elegant dish Mum will love.
READY IN 10 MINS - SERVE IT WITH BASIL POACHED SALMON OR A GOAT CHEESE TART
SPRING MIX SALAD WITH CRUNCHY PEAS & SEEDS
Full of green veggies, sweet tomatoes and crunchy seeds, this bright salad recipe is a healthy, delicious, yet simple showcase of spring's best produce. An easy salad that will impress Mum.
READY IN 15 MINS - SERVE IT WITHGrilled Prawns with Oregano & LIme OR PROSCIUTTO PASTA
FROZEN ARTICHOKE HEARTS WITH TANGY LEMON & HERBS
Golden sautéed artichokes with a zesty lemon dressing and fresh herbs are perfect for outdoor entertaining refreshing, light yet so delicious.
READY IN 25 MINS - SERVE IT WITH HERB CRUSTED FISH OR GOATS CHEESE & THYME CHICKEN BREAST
ARUGULA SALAD WITH AVOCADO & PRESERVED LEMON
This bright, peppery and tart salad is flavourful yet surprisingly simple to make. Ideal with lamb but would suit any protein.
READY IN 10 MINS - SERVE IT WITH LAMB ROAST OR GARLIC GRILLED SKIRT STEAK
AVOCADO MANGO SALAD WITH COCONUT FLAKES
Avocado and mango complement each other perfectly in this easy summer salad. Topped with red capsicum, coconut flakes, and a mint and lime dressing, this salad packs a flavour punch that Mum will love!
READY IN 10 MINS - SERVE IT WITH THAI GRILLED BEEF OR STICKY LIME CHICKEN
BABY ASPARAGUS SALAD WITH LEMON RICOTTA
Tender and delicate baby asparagus is complemented with creamy lemon ricotta in this simple, yet beautiful salad.
READY IN 15 MINS - SERVE IT WITH WHOLE BAKED SALAMON OR FILLET STEAK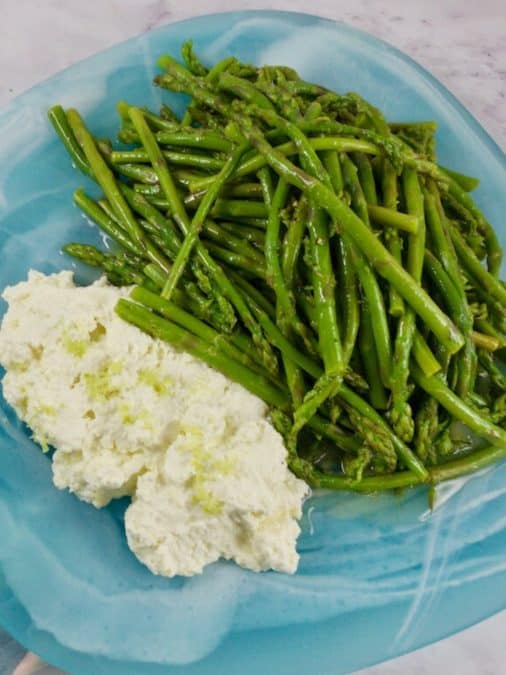 BBQ ASPARAGUS SALAD WITH GOATS CHEESE
Grilled asparagus is complimented with walnut rosemary crumble and creamy goat cheese In this beautiful summer salad.
READY IN 25 MINS - SERVE IT WITH ROSEMARY CHICKEN OR PERFECT STEAK
EGGPLANT SALAD WITH HARISSA
The rich, aromatic flavours of the Middle East make their way into this hearty roasted eggplant side with spicy harissa paste.
READY IN 1 HR 45 MINS - SERVE IT WITH ROAST LAMB
EPIC HEIRLOOM TOMATO SALAD WITH WHIPPED FETA
Let the battle of the forks commence! This simple heirloom tomato salad with creamy whipped feta will have your family fighting to get their share it is just that good.
READY IN 10 MINS - SERVE IT WITH DUKKAH CRUSTED SCHNITZEL OR LAMB CUTLETS
TROPICAL MIXED SALAD WITH PASSIONFRUIT DRESSING
What an amazing salad! the crunch of cool cucumbers and romaine lettuce, sweet red peppers and creamy avocado all smothered in a unique sweet and light passionfruit dressing. Added bonus it just takes 10 minutes!
READY IN 10 MINS - SERVE IT WITH MEXICAN RIBS OR JAMAICAN JERK CHICKEN
MIXED LEAF & CHERRY SALAD WITH HONEYED MACADAMIAS
A sweet cherry salad packed with flavour and texture from mixed leaves, brie, and honey macadamia nuts topped with a red wine vinaigrette. For sophisticated palates.
READY IN 30 MINS - SERVE IT WITH SCOTCH FILLET ROAST OR ROAST QUAIL
SAUTÉED EGGPLANT SALAD WITH ZA'ATAR
This fragrant eggplant za'atar salad is full of seasonal veggies and it is the perfect side to BBQ meats or traditional Middle Eastern dishes.
READY IN 30 MINS - SERVE IT WITH YOTAM OTTOLENGHI'S PAN-SEARED SALMON
SHAVED FENNEL SALAD WITH ZUCCHINI RIBBONS & DUKKAH
Shaved fennel with zucchini topped with a zesty lemon and olive oil dressing. A simple and refreshing salad that goes perfectly with barbecued or roasted meats.
READY IN 10 MINS - SERVE IT WITH POMEGRANATE CHICKEN OR ROAST ZA'ATAR LAMB
_____
FALL/AUTUMN OR WINTER MOTHER'S DAY SALADS
APPLE PECAN SALAD WITH POPPYSEED DRESSING
Add the tang of fresh apples and the crunch of pecans to the dinner table. Top it off with a creamy poppyseed dressing that pairs well with chicken or fish main dishes.
READY IN 10 MINS - SERVE IT WITH TURKEY WELLINGTON OR ROAST PORK RACKS
GORGEOUS APPLE SLAW
Crunchy, fresh and delicious, this gorgeous apple slaw comes together with only two simple ingredients and a tasty creamy dill dressing.
READY IN 10 MINS - SERVE IT WITH SPICY RIBS OR PROSCIUTTO STUFFED CHICKEN
BALSAMIC MUSHROOM SALAD WITH ROSEMARY
Balsamic mushroom and arugula salad topped with parmesan and rosemary and tossed in a balsamic vinaigrette. This salad is bursting with beautiful earthy, fall flavours.
READY IN 25 MINS - SERVE IT WITH PRIME RIB ROAST OR ROSEMARY CHICKEN
CUTE & CURLY COLD BEET SALAD
A beautiful spiralized beet salad made with a tart red wine vinegar dressing, aromatic cumin, and fresh mint. The perfect combination for a delicious salad!
READY IN 35 MINS - SERVE IT WITH CRISPY ROAST DUCK OR GRILLED MUSTARD HERRING
FENNEL ORANGE SALAD
Fennel orange salad is so simple, yet the combination of flavours creates a show-stopping salad that is sure to please everyone.
READY IN 10 MINS - SERVE IT WITH A WHOLE BAKED SNAPPER
GOLDEN BEET SALAD WITH HONEY MUSTARD DRESSING
A show-stopping two-toned salad that highlights beets. Sweet roasted golden beets, earthy red beets, mild baby spinach and crunchy walnuts are drizzled with a sensational, honey mustard dressing for a healthy salad that you will love.
READY IN 1 HR 15 MINS - SERVE IT WITH GRILLED SARDINES OR GOATS CHEESE PASTA
MANDARIN & FENNEL SALAD WITH BLANCHED ALMONDS
This refreshing citrus salad is the perfect side for a brunch and it is packed with flavour. The salad combines sweet mandarin oranges, fresh fennel, and creamy almonds all tossed in a citrus vinaigrette.
READY IN 10 MINS - SERVE IT WITH CHICKEN TENDERLOINS OR VEGAN NUT ROAST
MOROCCAN PUMPKIN SALAD
Moroccan Pumpkin Salad - a tasty combination of roasted pumpkin, pepitas, sesame seeds, rocket, and topped with a Moroccan style dressing.
READY IN 45 MINS - SERVE IT WITH LAMB TAGINE OR CHUNKY BEEF STEW
PAK CHOY AND BLOOD ORANGE SALAD
Crisp pak choy, juicy blood oranges, and crunchy peanuts create the perfect combination of textures and flavours in this Asian inspired salad.
READY IN 10 MINS - SERVE IT WITH CHAR SIU PORK OR 5-SPICE CHICKEN.
RED CABBAGE & FENNEL SALAD WITH RASPBERRY MAYO
This pretty red cabbage salad is paired with aromatic fennel and dill, crunchy hazelnuts and tossed with a pretty pink raspberry mayo - perfect for Mum!
READY IN 15 MINS - SERVE IT WITH BACON-WRAPPED PORK SCOTCH FILLET ROAST
ROASTED BEET SALAD WITH CARDAMOM VINAIGRETTE
Four ingredients are all you need to make this flavorful roasted beet salad. A cardamom vinaigrette tops it off to add a unique flavour punch. A salad to make the day before for the flavours to develop.
READY IN 1 HR 55 MINS - SERVE IT WITH FAMILY ROAST BEEF OR PORK BELLY ROAST
SPIRAL CARROT & ORANGE SALAD
A flavorful, healthy and fresh salad made with beautiful spiralized carrots, sweet oranges and mint and tossed with a delightful citrus vinaigrette.
READY IN 10 MINS - SERVE IT WITH BRAISED LAMB SHANKS OR CHICKEN BIRYANI
SPINACH MANDARIN ORANGE SALAD WITH STAR ANISE
This spinach mandarin orange salad is refreshing and loaded with flavours and textures. It is finished off with a delightful mandarin and anise vinaigrette.
READY IN 10 MINS - SERVE IT WITH STICKY PORK RIBS OR NEIL PERRY'S PERI PERI CHICKEN
Pin Now & Save for Later